Improve Your English in the US!
Intensive English Program at Western Washington University
Would you like to improve your English and study in one of the most beautiful regions in the US? The Intensive English Program (IEP) at Western Washington University gives TU Dortmund University's students more confidence in the English language and even offers full scholarships for one quarter in the US.
The CEA accredited Intensive English Program (IEP) at the partner school Western Washington University is comprised of English language courses that prepare international students for studying in the US and improve one's general language level.
Who should apply to the program?
The program is best suited for bachelor students with a lower English level, up to about B1, but all students may apply. Especially the Zauchner scholarship is best suited to very motivated students with a lower level of English.
When does the program take place?
The intensive language classes (24 hours per week) are divided into 6 levels and last an entire quarter (approximately three months). The following quarters are available, and for those who can pay for the program on their own the application deadlines can be very late (application should be sent directly to the IEP team up to approximately 6 weeks before the program start):
Fall Quarter: Mid-September until Early December
Winter Quarter: Early January until Late March
Spring Quarter: Early April until Mid-June
Location & approach
The facilities of TU Dortmund University are spread over two campuses, the larger Campus North and the smaller Campus South. Additionally, some areas of the university are located in the adjacent "Technologiepark".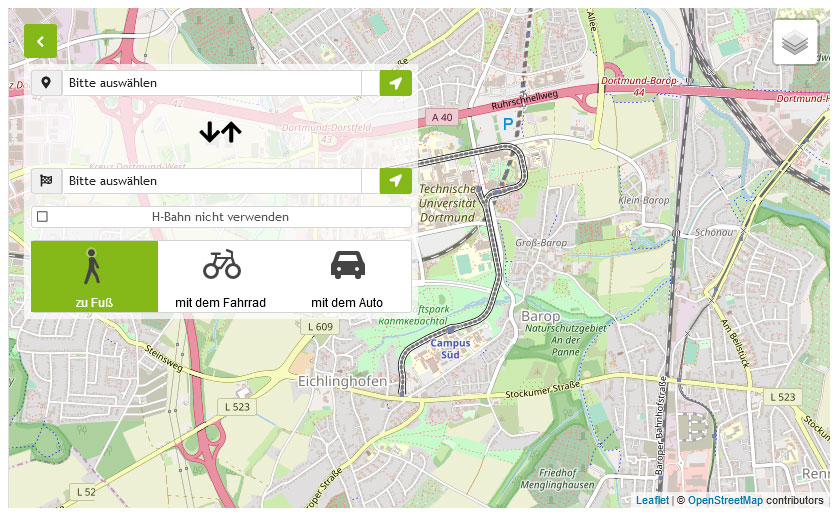 Zum Lageplan