Overseas Exchange Program
Application
The application deadline for the Overseas Exchange Program is 30 October for the next academic year. Applicants will receive the first feedback on their applications by the end of November. Interviews typically take place in December.
Please note that German language skills are required in this program (at least B1), thus the application form is only available in German.
Please read the information on this website carefully!
Your application needs to be submitted online. You do not need to turn anything in to the International Office. The application consists of:
Online application form (in German)
Photo
CV or resumé (German or English)
Answers to the following three questions (in English):
What do you expect from your study abroad experience with regard to your academic development and what is the added value of studying your subject in the country for which you are applying? Please also list the courses that you would like to take. (This is just a "wish list" to show us in which direction the courses will go.) (max 800 words)
Please tell us about your experience volunteering and assisting in organizations or other volunteer work, with or without an intercultural focus. (max 400 words)
What actions and events at your host institution can you imagine organizing to make TU Dortmund University more popular and to get as many foreign students as possible interested in studying in Dortmund? (max 400 words)
Enrollment Certificate
Transcripts of Records
Include your transcripts from all past and current study programs.
Confirmation of your GPA ("Durchschnittsnote") from the Examinations Office
All students who have completed at least one semester at TU Dortmund University must submit proof of their average grade (GPA) from the Examinations Office. The PDF documents generated in BOSS will not suffice. Please be sure to take care of this on time.
If you are currently in your first semester, we can accept your GPA/grade report from your past studies or school.
Please note:
You must submit your application online on time.
You may not submit any further documents/certificates.
You are free to select multiple countries in your application. It is important that you give us - if applicable - a ranking according to your priorities (in the online application).
Your application needs to be submitted online. You do not need to turn anything in to the International Office. The application deadline ends at mindnight on 30 October. Unfortunately we cannot consider incomplete or late applications.
Location & approach
The facilities of TU Dortmund University are spread over two campuses, the larger Campus North and the smaller Campus South. Additionally, some areas of the university are located in the adjacent "Technologiepark".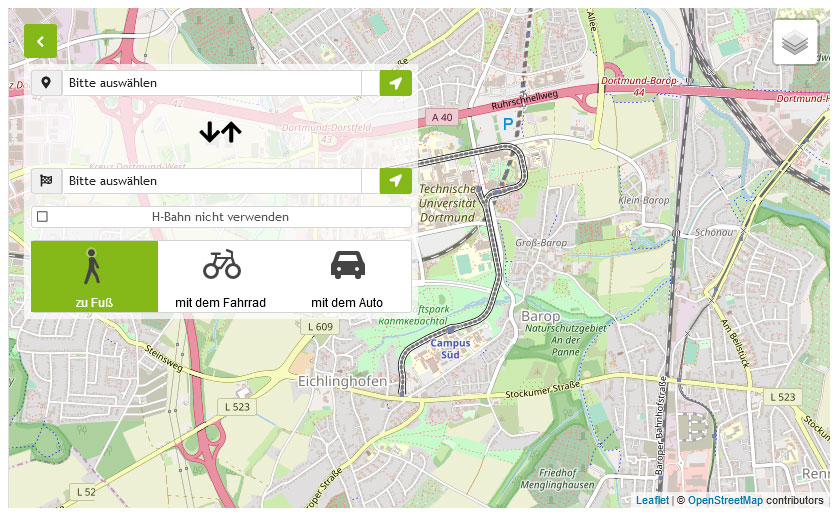 Zum Lageplan