International Career Fair
Information for Students and Graduates
The 11th International Career Fair will tage place on Thursday, 27 October 2022.
Are you about to complete your studies or maybe already writing your thesis? Have you come to study at TU Dortmund University from abroad? Are you interested in the professional opportunities which companies from Dortmund and the region can offer you?
Take your chance at the next International Career Fair and make direct contact with company representatives!
At the career fair, participants have the opportunity to get to know a large number of companies from Dortmund and the region in personal conversations. This is of particular interest to students pursuing degree programs in the natural sciences and technical subjects, as a visit to the trade fair can open up interesting career opportunities for you - because unlike other fairs, we arrange appointments with companies for you!
Do you need to register?
Yes, registration is required for the morning appointments. This has not yet been activated and will start in mid-July 2022.
However, you can sign up for our mailing list and will then receive the latest information, reminders, etc. by email!
Where will the career fair take place?
The fair will take place at the International Meeting Center (IBZ), Emil-Figge-Str. 59, at the North Campus of the TU Dortmund University. The International Meeting Center offers an excellent framework for networking the university with the regional economy. The construction of the International Meeting Center (IBZ) has already shown that science and business are moving closer together in Dortmund: the building was financed primarily by donations from companies in Dortmund and the region. The students of the TU Dortmund also made a major contribution to the center with their tuition fees.
What do the companies expect from you?
When you register, you indicate what qualifications you bring with you and what you are interested in; for example, internships or an entry-level job. The more specific your information, the better we can place you with the companies. To do this, you must agree to us passing on your data and your CV to the companies for the event.
What does participation in the event cost?
For the companies and students, participation in the career fair is free of charge.
What happens after the fair?
We would like to stay in contact with you after the fair and follow up on what has resulted from your contacts.
Your contact at TU Dort­mund University, International Office:
Julia Pehle
E-Mail: julia.pehle@tu-dortmund.de
Tel.: 0231 755 6370


Your contact at the Dort­mund Chamber of Industry and Commerce:
Petra Preiß
E-Mail: p.preiss@dortmund.ihk.de
Tel.: 0231 5417 275
Location & approach
The facilities of TU Dortmund University are spread over two campuses, the larger Campus North and the smaller Campus South. Additionally, some areas of the university are located in the adjacent "Technologiepark".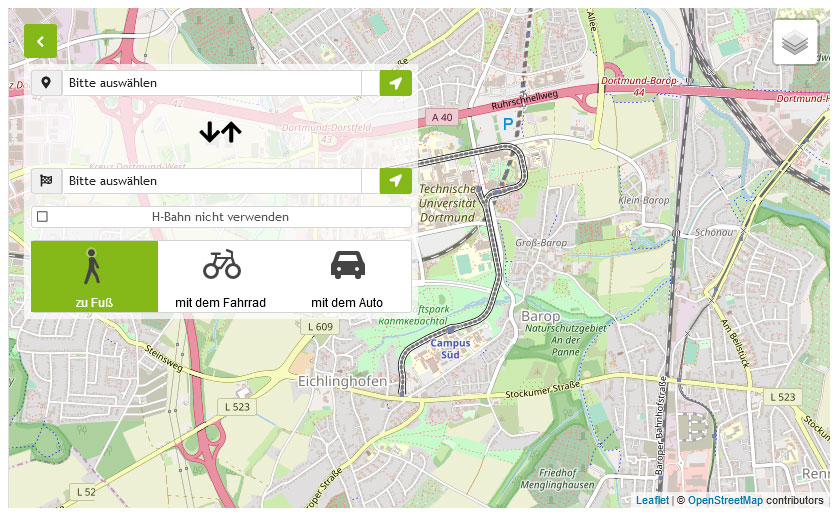 Zum Lageplan