International Career Fair
Information for Students and Graduates
The 10th International Career Fair takes place on Thursday, 28 October 2021.
Are you about to complete your studies or maybe already writing your thesis? Have you come to study at TU Dortmund University from abroad? Are you interested in the professional opportunities which companies from Dortmund and the region can offer you?
Take your chance and make direct contact with company representatives!
At the career fair you will have the opportunity to get to know a large number of companies from Dortmund and the region in personal conversations. This is of particular interest to students pursuing degree programs in the natural sciences and technical subjects, as a visit to the trade fair can open up interesting career opportunities for you - because unlike other fairs, we arrange appointments with companies for you!
Which program has been planned?
This career fair aims to bring you as a foreign student or graduate together with internationally active company representatives. To make this possible, the day of the event consists of two sections:
| | |
| --- | --- |
| 09:00 a.m. - 9:15 a.m. | Welcome |
| 09:15 a.m. - 1:00 p.m. | In the morning you will have the opportunity to talk to company representatives at pre-arranged meetings. When you register, you can narrow down which companies are of interest to you and which qualifications you can offer. This should allow a quite precise allocation of you to potentially suitable companies. Each meeting lasts 20 minutes, so a maximum number of 11 meetings are possible in the end. |
| 1:00 - 1:30 p.m. | Midday Break |
| 1:30 - 3:00 p.m. | Continuation of the career fair: In the afternoon, even spontaneous visitors or those who could not get appointments in advance have the opportunity to inform themselves at the stands of the companies or continuation of appointments (depending on infection control requirements). |
| 3 p.m. | end of the career fair |
What about the Corona situation?
We are currently planning a face-to-face event with a hygiene concept in the International Meeting Centre (IBZ). However, we will adapt to the Corona situation and you will be informed here if we have to deviate from the face-to-face format at short notice.
Which companies take part in the fair?
The following companies will participate in the fair as exhibitors:
ABP Induction GmbH
Albonair GmbH
Bayer AG
catkin GmbH
DEW 21 - Dort­mun­der Energie- und Wasserversorgung GmbH
ICA Traffic GmbH
KHS GmbH
Kumavision AG
Materna Information & Communication SE
Montanhydraulik GmbH
onoff engineering gmbh
Pieper GmbH
Redpath Deilmann GmbH
Ritter Starkstromtechnik GmbH &Co KG
RSA cutting technologies GmbH
SQLI Deutschland GmbH
tremaze UG
TU Dortmund, Personalgewinnung
Uniper SE
viadee Unternehmensberatung AG
Who organizes this event?
The fair is organized by the International Office of TU Dortmund University and the Dortmund Chamber of Industry and Commerce.
Do you need to register?
Yes, registration was required for the morning appointments. This was possible until 10 September and registration for the morning appointments is now no longer possible.
It is planned that interested students and graduates can visit the fair spontaneously without an appointment in the afternoon between 1:30 and 3 pm for the open fair format. It is not yet clear whether the infection control regulations will allow this - you will find out more here shortly!
Your contact at TU Dort­mund University, International Office:
Julia Pehle
E-Mail: julia.pehle@tu-dortmund.de
Tel.: 0231 755 6370


Your contact at the Dort­mund Chamber of Industry and Commerce:
Petra Preiß
E-Mail: p.preiss@dortmund.ihk.de
Tel.: 0231 5417 275
Location & approach
The facilities of TU Dortmund University are spread over two campuses, the larger Campus North and the smaller Campus South. Additionally, some areas of the university are located in the adjacent "Technologiepark".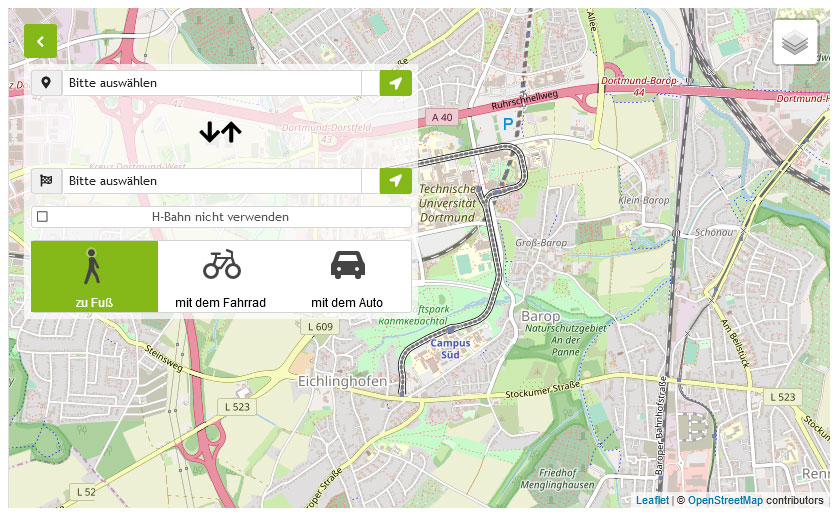 Zum Lageplan