International Career Fair
Information for Students and Graduates
The 11th International Career Fair will tage place on Thursday, 27 October 2022.
Are you about to complete your studies or maybe already writing your thesis? Have you come to study at TU Dortmund University from abroad? Are you interested in the professional opportunities which companies from Dortmund and the region can offer you?
Take your chance at the next International Career Fair and make direct contact with company representatives!
The International Career Fair at TU Dortmund University has a decisive advantage: In the run-up to the fair, students and graduates are matched with companies. Both groups are matched as closely as possible on the basis of individual competencies with CVs and job requirements. As a participating graduate, you receive a list of appointments with companies that match your profile before the fair. This gives the company representatives at the fair enough time to talk to you, and you can quickly get into direct contact with each other. Because both sides can find out about each other beforehand, the talks are very focused.
For international students and graduates, participation in the fair is a great opportunity to get an interesting internship or a position as a working student, or to get their first job directly after graduation. This is especially interesting for students who are taking courses in natural sciences and technical subjects. Visiting the fair can open up interesting career opportunities for you!
Which companies will be participating on October 27?
We are looking forward to the following exhibitors:
Albonair GmbH
Bayer AG Product Supply, Pharmaceuticals
BROCKHAUS AG
catkin GmbH
Deutsche Bank
GfTD United SE
ICA Traffic GmbH
innolectric AG
Kelvion / Kelvion Holding GmbH
KHS GmbH
KPS AG
Materna Information & Communications SE
MedVision AG
Miele & Cie. KG | Gütersloh
Paul VAHLE GmbH & CO. KG
Shell Energy and Chemicals Park
Storm reply GmbH
thyssenkrupp Bilstein GmbH
thyssenkrupp Industrial Solutions AG
thyssenkrupp Management Consulting GmbH; Digital Projects
thyssenkrupp nucera AG & Co. KGaA
thyssenkrupp Steel Europe AG
Tintometer GmbH
Uniper SE
viadee Unternehmensberatung AG
zalando SE
Soon you will also find a booklet with more information about the individual companies.
Who organizes this event?
The fair is organized by the International Office of TU Dortmund University and the Dortmund Chamber of Industry and Commerce.
Do you need to register?
Registration was required for the morning appointments. Unfortunately, this registration period has already expired - but don't worry: All interested students and graduates can visit the fair from 1:30 to 3 p.m. without registration! Feel free to drop by, meet company representatives* and make contacts.
We are looking forward to your visit!
Program

09:00 a.m - 09:15 a.m

Welcome

09:15 a.m. - 1:00 p.m.

Appointments with students at your booth: In the morning you have the opportunity to talk to students during the pre-arranged meetings. After you have registered, you can narrow down which qualifications your desired candidates should have, so that the allocation can be made as accurately as possible. Each interview is scheduled to last 20 minutes.

1:00 - 1:30 p.m.

Midday Break

1:30 - 3:00 p.m.

Continuation: Students of all disciplines visit the fair without pre-registration.

3:00 p.m

end of the career fair
Where will the career fair take place?
The fair will take place at the International Meeting Center (IBZ), Emil-Figge-Str. 59, at the North Campus of the TU Dortmund University. The International Meeting Center offers an excellent framework for networking the university with the regional economy. The construction of the International Meeting Center (IBZ) has already shown that science and business are moving closer together in Dortmund: the building was financed primarily by donations from companies in Dortmund and the region. The students of the TU Dortmund also made a major contribution to the center with their tuition fees.
What do the companies expect from you?
When you register, you indicate what qualifications you bring with you and what you are interested in; for example, internships or an entry-level job. The more specific your information, the better we can place you with the companies. To do this, you must agree to us passing on your data and your CV to the companies for the event.
What does participation in the event cost?
For the companies and students, participation in the career fair is free of charge.
What happens after the fair?
We would like to stay in contact with you after the fair and follow up on what has resulted from your contacts.
Your contact at TU Dort­mund University, International Office:
Julia Pehle
E-Mail: julia.pehle@tu-dortmund.de
Tel.: 0231 755 6370


Your contact at the Dort­mund Chamber of Industry and Commerce:
Petra Preiß
E-Mail: p.preiss@dortmund.ihk.de
Tel.: 0231 5417 275
Location & approach
The facilities of TU Dortmund University are spread over two campuses, the larger Campus North and the smaller Campus South. Additionally, some areas of the university are located in the adjacent "Technologiepark".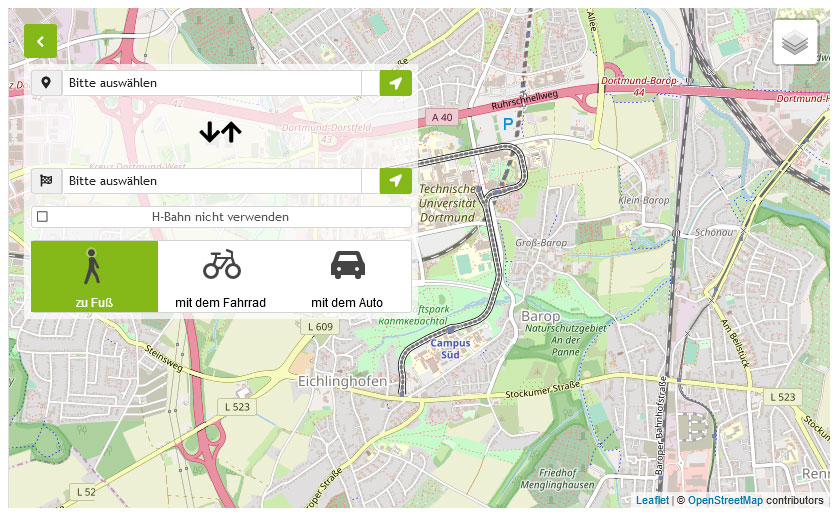 Zum Lageplan