Financial support during studies
Scholarship Programs and Study Financing
Are you studying at TU Dortmund University and need financial support? Here you can find general information on the topic of financing your studies as well as information on internal and external scholarship programs and other contact points on the topic of financing for refugees.
Support Program "NRWege ins Studium"
The Refugee Counseling and Integration Office of the International Office can award study scholarships for students of TU Dortmund University in need with a refugee background within the framework of the program NRWege ins Studium - Unterstützung von Studierenden mit Fluchterfahrung an Hochschulen in Nordrhein-Westfalen ab 2023, funded by the Ministry of Culture and Science (MKW) of the State of North Rhine-Westphalia.
Depending on the financial situation of the applicants, the study scholarships are divided into full scholarships and partial scholarships.
Application deadline: 28. February 2023
This scholarship is for individuals who have no other means of adequately supporting themselves or financing their studies and who meet the eligibility requirements.
Persons applying for a scholarship must prove that they have applied for BAföG and that the application has not yet been approved or rejected.
The funding period is twelve months. The maximum funding amount is €934 per month.
If BAföG is currently being received, a partial scholarship may be awarded if the student's academic performance is above average.
The funding period is twelve months. The maximum funding amount is €300 per month.
Eligibility Requirements
Study scholarships may be awarded to students with a refugee background who meet the following requirements:
Enrollment in a regular degree program at TU Dortmund University: A current certificate of enrollment must be submitted.
A refugee background must be present: A currently valid residence title proving a refugee background must be submitted (front and backside of the document).
Entry into Germany within the last five years. *Exceptions possible if individuals have already received support under NRWege ins Studium.
Acquisition of the higher education entrance qualification abroad (no foreign students in the sense of Bildungsinländer): Documents of higher education entrance qualification (e.g. foreign school or university degree) must be submitted.
Financial need: written confirmation that the studies cannot be financed (sufficiently) in any other way.
BAföG receipt: Proof must be provided that BAföG has been applied for and that the application has been rejected or not yet approved (full scholarship). If BAföG is received, the current BAföG notice must be submitted (partial scholarship).
Letter of Motivation: Submission of a letter of motivation outlining interest in study and need for support.
Academic achievements that indicate a successful course of study: Proof of course completed work (current transcript of records) must be submitted.
Tabular curriculum vitae/résumé must be submitted.
Positive evaluation by a university teacher, in the case of an application from the 4th program semester.
Willingness to provide necessary proprietary data to the university as part of the grant and willingness to participate in surveys/studies.
Willingness to use counselling services on a regular basis.
Proof/reference letter of volunteer commitment if applicable.
If you are awarded a scholarship, an overview/proof of the academic achievements within the scholarship period must be submitted no later than two months after completion of the scholarship.
The application form required for the application will be published here on 1 February 2023.

The complete application must be submitted by 28 February 2023, according to the information on the application form.
The complete documents can either be sent by mail or dropped in the deadline mailbox of the International Office in front of the building. The address can be found on page 1 of the application form.
The selection of the scholarship holders is made by a commission and is based on various criteria, such as financial need and academic performance. Further information on the selection process can be found in the application form.
The selection will take place in March 2023. The scholarship holders will be informed in writing about the result of the selection process. The first scholarship installment will be paid in April 2023.

Hadi, 25, NRWege Scholarship
"Die NRWege-Förderung ermutigte mich stets, mir neue Ziele festzulegen und mich weiterentwickeln zu wollen. Das Stipendium hat mir die Möglichkeit geboten, mich auf mein Studium zu konzentrieren. Es bot mir vor allem auch die Zeit meine Unterstützung für hilfsbedürftige Menschen fortzuführen. Dafür möchte ich mich ganz herzlich bei den Fördernden bedanken. "

Jammal, 25, NRWege Scholarship
"Das Stipendium hat mir eine sehr gute finanzielle Sicherheit angeboten und geholfen, mich besser auf das Studium konzentrieren zu können, statt zwischen Minijobs zu pendeln. Es hat sich gelohnt, mich beworben zu haben, obwohl ich nicht die besten Noten hatte. Seine Motivation sollte man aber deutlich zeigen."

Basma, 28, NRWege Scholarship
"We were forced to leave our countries, but we are still able to pursue our dreams. The scholarship was the support for my academic ambitions, and I was the engine to achieve them. "
Study financing for refugees
When applying for a degree program you should already think about ways of financing your studies. After the enrollment, you will not receive any further financial support for your subsistence from the Jobcenter or the Federal Job Agency.
Although there are currently no tuition fees in North Rhine-Westphalia, studying is not free of charge. Every semester students have to pay a "social contribution" (i.e. a semester fee), which is used for the semester ticket, but also for student self-administration and other services. More detailed information on the social contribution can be found on the website of the Student Registration Office.
Furthermore, of course, there are also costs for your living expenses (rent, insurance, food, etc.). We have compiled an overview of funding opportunities for students with a refugee background during their studies. Please refer to the websites of the individual providers and sponsors for information on possible application deadlines and the according requirements for the funding.
Location & approach
The facilities of TU Dortmund University are spread over two campuses, the larger Campus North and the smaller Campus South. Additionally, some areas of the university are located in the adjacent "Technologiepark".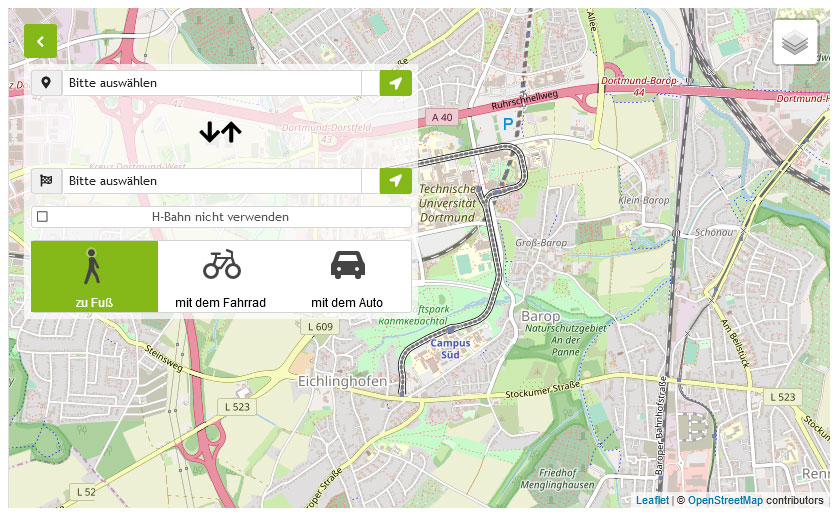 Zum Lageplan