Getting off to a good start after your studies
Career start in Germany
Would you like to stay in Germany after the successful completion of your studies at TU Dort­mund University? On these pages you can find useful advice and information about life and work in Germany.
Many in­ter­na­tio­nal graduates consider working in Germany for a certain period of time to gain valuable experience on the German labor market. Qualified specialists are needed and welcome in Germany, so the German government is promoting the immigration of foreign employees.
The following events and services will also help you in this respect:
Visa and Residence Permit
As soon as you finish your studies, you should consult with your contact persons at the Foreigners' Registration Office (in Dort­mund: "Dienstleistungszentrum für Visa-Angelegenheiten,ausländische Stu­die­ren­de und Fachkräfte"), as your residence permit must change accordingly.
In this flyer of the city of Dort­mund you will find various information, for example, on how to find a job, how to extend your residence permit in order to pursue employment, and the responsible contact persons.
Looking for an Internship or a Job
Start your job search early! Remember that some career fairs or information events are held just once a year, so inform yourself in good time and do not miss any registration deadlines. In general, it is not unusual for application processes to take up to 6 months and require several applications, although this can vary greatly, of course. Find out about your individual strengths, interests and abilities and look beyond your own nose when looking for suitable vacancies - the search is often not (only) for graduates with specific degrees, but rather with the right skills.
There are also regular events at TU Dort­mund University to support you in the transition from university to the job market. These can be career fairs, for example, which offer you the opportunity to get in contact with different companies, get an internship position and potentially even submit your application. It is therefore important to prepare well beforehand, have your CV or short application ready and approach company representatives openly. Among others, you can find the following offers at TU Dort­mund University:
Applications and job interviews
In order to apply successfully on the German job market, you should deal with the "dos and don'ts" of application writing. Current literature on the subject of applications and job interviews can be helpful, or you could seek professional advice. Find out more about the company you would like to apply to. Do not send standard applications to different companies, but adapt each application individually to the respective employer. You should also consider beforehand which documents you need to submit and which standards and rules need to be followed - our workshop on business appearance can be helpful in this matter!
Please do not forget that your German language skills are the key to the success of your application! Many employers in Germany expect good knowledge of the German language. So do not only work on your specialist knowledge during your studies, but also remember to continuously improve your language skills; e.g. through language courses or by joining clubs and associations on campus.
After successfully finalizing your studies at TU Dort­mund University, we would like to stay in touch with you. Please visit the pages of Alumni International and become part of our in­ter­na­tio­nal network! This network is aimed at former students of TU Dort­mund University as well as in­ter­na­tio­nal scientists and scholars actively pursuing their research activities at TU Dort­mund University.
The Association of Friends of TU Dort­mund University (Gesell­schaft der Freunde der TU Dort­mund) also has an extensive network and establishes contacts between the university and its economic, political and cultural environment.
Location & approach
The facilities of TU Dort­mund University are spread over two campuses, the larger Campus North and the smaller Campus South. Additionally, some areas of the university are located in the adjacent "Technologiepark".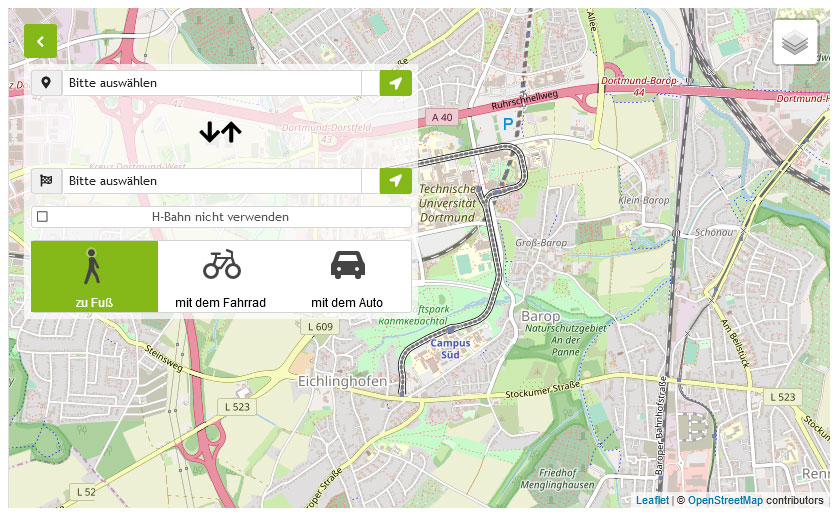 Zum Lageplan