Into the world with a group of students of TU Dortmund University
PROMOS Study Trip
The DAAD started the PROMOS program with funds from the BMBF, for which German universities can apply through the DAAD. This provides TU Dortmund University with funds for student stays abroad but also includes funding for study trips abroad, which can be applied for under the direction of a professor via the International Office.
TU Dort­mund University Study Trip Abroad
A1 Certificate | Certificate of Secondment
Should the application be approved, TU Dort­mund University must apply for an A1 certificate (within the EU) / Certificate of Secondment (outside the EU), which you must carry with you during your study trip. You must actively apply for this certificate and contact the appropriate contact person in Department 3.2.
Travel safety
The decision to travel to risk areas lies with you and TU Dortmund University, taking into account the regulations of the PROMOS program, the institution's internal strategies and the respective crisis management. This also means that you must inform yourself about the current situation in the host country on the website of the Federal Foreign Office and consult with the International Office before you begin your stay abroad.
Further Study and Concert Trips
Applications for the following projects may be sent directly to the DAAD:
Location & approach
The facilities of TU Dortmund University are spread over two campuses, the larger Campus North and the smaller Campus South. Additionally, some areas of the university are located in the adjacent "Technologiepark".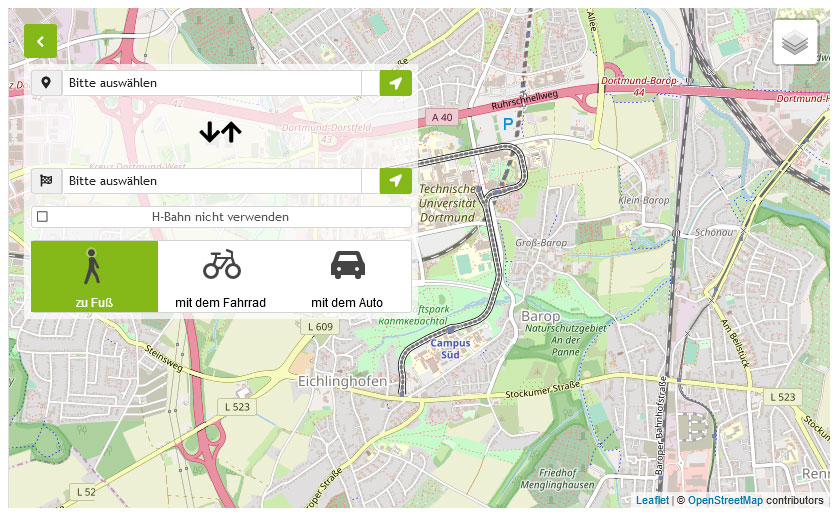 Zum Lageplan