For One Semester at Partner University Overseas
PROMOS Scholarship: Study Abroad Storyteller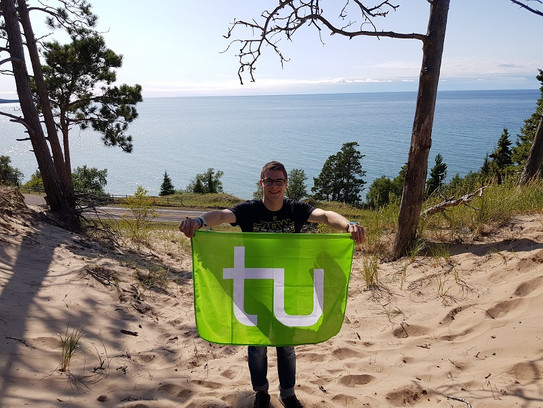 TU Dortmund University offers the PROMOS scholarship program, funded by the DAAD and BMBF, for one semester at an overseas partner university.
All TU Dortmund University students (in Bachelor or Master) who are studying at an overseas bilateral partner university (Free Mover or exchange students) may apply.
Your job during your semester abroad:
We need ambassadors for our partner universities! The Study Abroad Storytellers keep everyone back home up-to-date and regularly report on what they are experiencing abroad.
Study Abroad Storytellers
Eligible Stays Abroad
Students who are participating in the Overseas Exchange Program (ISEP and bilateral) or so-called "Free Movers" spending one semester at one of the bilateral or ISEP overseas partner universities may apply for the scholarship.
Eligible universities are available in the information about the Overseas Exchange Program. If you are not sure if your school is a part of the program, just ask in the International Office.
You must be enrolled at TU Dortmund University for the entire semester abroad. A leave of absence (Beurlaubung), however, is possible.
Scholarship Amount
Students receive a stipend for three months according to the country rates set by the DAAD (in the column "Teilstipendium Aufenthalt").
Additional Funding
Students with special needs (at least GdB 50) or chronic illness can apply for up to 10,000 EUR additional funding from the DAAD; just be sure to contact the International Office early on in the planning process (six months prior).
© Laura Hope​/​TU Dortmund
Contact
E-mail Inquiries
General inquiries: going-abroad @tu-dortmund.de
Erasmus+ study abroad: erasmus-outgoings @tu-dortmund.de
Office Hours
(Only) Erasmus+ Study Abroad:
Office hours via telephone/zoom: by prior arrangement
Tel.: 0231 755-6247
Office hours in presence: only with appointment
Tue 9:00-12:00
General Inquiries - Outgoings (Studies/Internships/Short Programs):
No Office Hours: Please note that the office hours will not take place for three weeks beginning 1.10. Afterwards they will only take place 1x/week until the end of the winter semester. If you have any questions we suggest that you take advantage of the office hours in September (see below).
Office hours (through 30.9.) via telephone/Skype/Zoom: without appointment, open
Tel.: 0231 755-4728 / Skype: laura-hope
Mon 13:00-15:30
Tue 9:00-11:30
Wed 13:00-15:30
Office hours (through 30.9.) in presence: only with an appointment
Wed 9:00-11:30