In the Erasmus program you first apply for an exchange place in your faculty, then you register with the International Office for official admission to the program and to receive the mobility grant. In addition, each partner university has its own application procedure that you have to go through. To make sure that you know exactly what to do and when during this process, please read the following three steps carefully.
The application for an Erasmus place is slightly different in each faculty. You can find out how exactly on the respective faculty's website (in the case of students studying to become teachers, this can be several faculties). Many faculties regularly offer information events on studying abroad - look out for notices, invitations by e-mail and keep an eye on your faculty's homepage.
Under Erasmus partner universities, the International Office has compiled important links to all partner universities, to the faculties' websites with the application criteria, the selection procedure, the deadlines and the application itself.
The application criteria are usually motivation, language competence and academic performance.
For a successful study abroad, make sure that you already have a good knowledge of the foreign language prior to your departure.
Although Switzerland no longer participates in the Erasmus program, bilateral exchanges outside of Erasmus are possible (often, the same application formalities apply).
Once you have been selected by your faculty for the Erasmus program, you must submit the Online Acceptance Form, which is also the application for an Erasmus mobility grant. For the academic year 2021/2022 (winter semester 2021/2022 and summer semester 2022) the deadline is 31 May 2021. Due to the corona pandemic, it may be possible to consider late applications.
Fill out online
Submit online
Print and sign
Get the signature of your Erasmus Departmental Coordinator
Send it by mail to the International Office (Referat Internationales, Erasmus Outgoings, Emil-Figge-Straße 61, 44227 Dort­mund) or drop it in the mailbox in front of the building.
You will receive a confirmation by e-mail and the following documents will be sent to you by mail:
Letter of Acceptance
Grant Agreement with the notification of the amount of the mobility grant for the academic year in which the exchange takes place
Certificate of the study abroad in German (e.g. for a leave of absence via the Student Registration Office)
Please have a look at the Erasmus+ Student Charter to learn more about the rights and obligations of Erasmus outgoings.
To register please check the information on the website of your host university (usually under "International Office") and carry out the steps for registration there yourself. You are not automatically registered!
Your Erasmus Departmental Coordinator needs to nominate you in advance at the host university.
Location & approach
The facilities of TU Dort­mund University are spread over two campuses, the larger Campus North and the smaller Campus South. Additionally, some areas of the university are located in the adjacent "Technologiepark".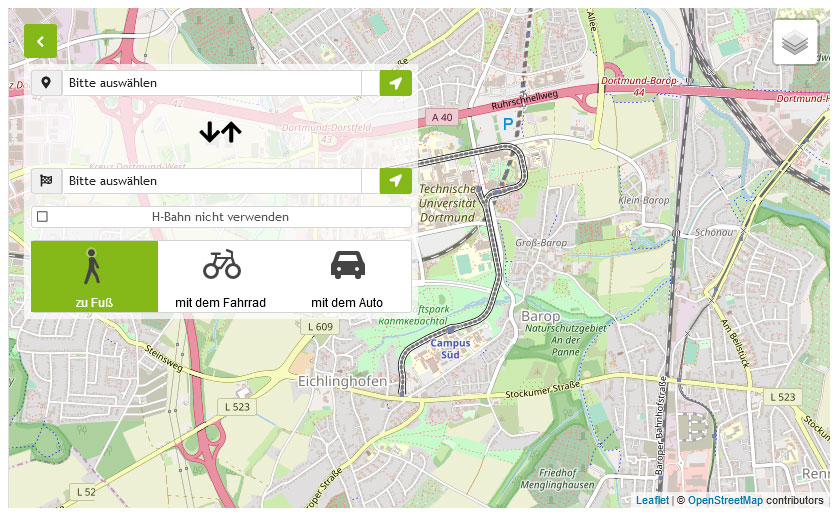 Zum Lageplan