Preparatory Support for Studies
Language Training for Refugees
German is the language of instruction for the majority of degree programs at TU Dortmund University. Therefore you need to have a very good knowledge of German to take up a degree program, which must be proven by passing a recognized German language examination. The only exceptions to this rule are the English-language degree programs, for which a corresponding proof of English is required.
Language learning financed by support program "NRWege ins Studium"
Since January 2017, TU Dortmund University has been supporting refugees who are interested in studying with language preparation for studies at TU Dortmund University. This is made possible by the support program NRWege ins Studium, which is funded by the state of North Rhine-Westphalia and applied for at the Counseling Services for Refugees under the title Language Training for Refugees.
The Language Training for Refugees includes participation in preparatory German courses at levels B1 - C1, taking the DSH examination, and a supporting framework program.
Important information about the Language Training
FAQs
Would you like to practice and improve your German language skillsin a casual setting? Then join us in our German Language Café.
The website of the German Language Café offers you an overview of the upcoming meeting dates, the location details and further relevant information.
Location & approach
The facilities of TU Dortmund University are spread over two campuses, the larger Campus North and the smaller Campus South. Additionally, some areas of the university are located in the adjacent "Technologiepark".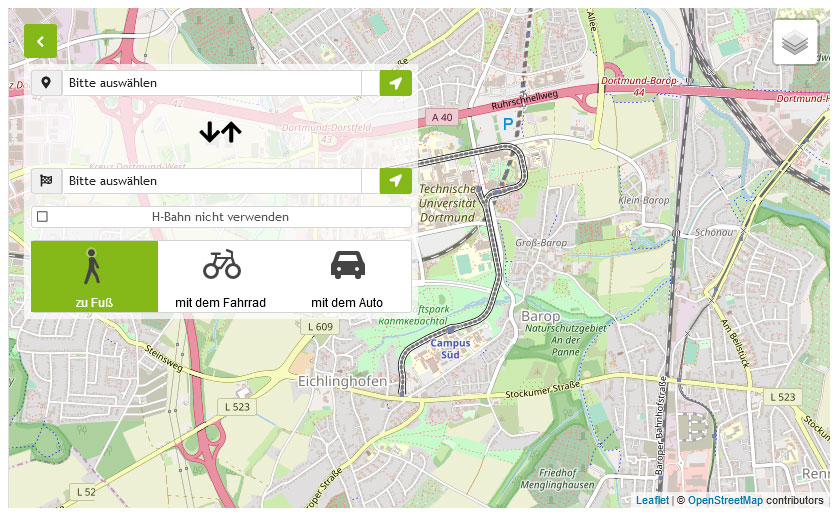 Zum Lageplan