Preparatory Support for Studies
Language Training for Refugees
German is the language of instruction for the majority of degree programs at TU Dortmund University. Therefore you need to have a very good knowledge of German to take up a degree program, which must be proven by passing a recognized German language examination. The only exceptions to this rule are the English-language degree programs, for which a corresponding proof of English is required.
Language learning financed by support program "NRWege ins Studium"
Since January 2017, TU Dortmund University has been supporting refugees who are interested in studying with language preparation for studies at TU Dortmund University. This is made possible by the support program "NRWege ins Studium", which is funded by the state of North Rhine-Westphalia and applied for at the Counseling Services for Refugees under the title Language Training for Refugees.
The Language Training for Refugees includes participation in preparatory German courses at levels B1 - C1, taking the DSH examination, and a supporting framework program.
Application for a place in the Language Training for Refugees is not possible at the moment.
Important information about the Language Training
FAQs
Soheil, 29, Participant NRWege Language Training
"Als Ausländer war ich immer auf der Suche nach Hilfe beim Lernen der deutschen Sprache. Durch die Sprachförderung konnte mir die TU Dortmund bei der Entwicklung meiner Wissenschaftssprache sehr helfen. Infolgedessen kann ich meinen Master anfangen. "
Yazan, 27, Participant NRWege Language Training
"Mit der Sprachförderung kann ich mein Ziel erreichen, einen Sprachkurs zu besuchen und die DSH-Prüfung zu schreiben. Durch die Online-Workshops und das Sprachcafé, die ich im Rahmen des Förderungsprogramms besucht habe, habe ich meine EDV-Kenntnisse und meine Sprache verbessert. Das Team der Clearingstelle war auch sehr hilfreich. Sie haben meine Fragen immer beantwortet, alle waren nett und haben mir bei Entscheidungen geholfen."
Would you like to practice and improve your German language skillsin a casual setting? Then join us in our German Language Café.
The website of the German Language Café offers you an overview of the upcoming meeting dates, the location details and further relevant information.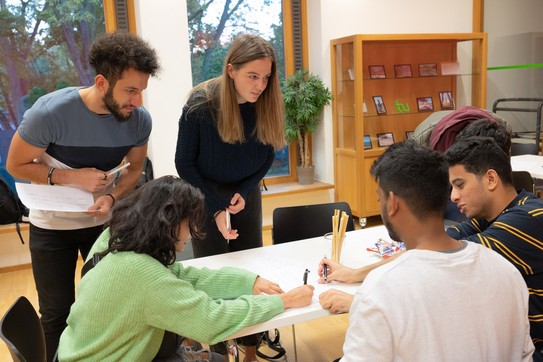 Further offers for learning German
For people who cannot participate in the Language Training for Refugees or for those who would like to improve their German in addition to the support program, there are further options:
Goethe-Institut: Further self-learning offers on the website as well as on the YouTube channel (DE)
Federal Office for Migration and Refugees: The "Ankommen" app
Deutsche Welle:

German broadcaster for foreign countries
Offers resources for learning German (e.g. podcasts)

Other YouTube channels, podcasts and media libraries of public broadcasters:

ARD Mediathek: Information can be found here.

Books:

Children's books recommended for beginners
Books from other countries, which you already know in your native language

Movies and series (preferably with German subtitles)

e.g. "Nicos Weg" from Deutsche Welle specifically for learning German

Listening to music in German while reading the lyrics
Tandem partnership, for example through the Center for Higher Education (zhb) at TU Dortmund University. More information about the Tandem method and the program at TU Dortmund University can be found here.
App "Tandem"
Groups in social networks (e.g. Facebook)
This overview of additional learning opportunities does not claim to be exhaustive.