Mentoring program Tandem2Job 2022
Experienced professionals support international students of TU Dortmund University in starting their carrers
Twelve mentees and twelve mentors launched the mentoring program Tandem2Job with the official networking event on 11. May 2022. In this program, experienced professionals from various industries and companies support international students of TU Dortmund University individually in their entry into the German job market. After the successful launch in 2021, the International Office is once again offering the program, in which the experienced professionals accompany the international talents in one-to-one mentoring over a period of six months.
At the kick-off event at the International Meeting Center (IBZ), the participating mentees and mentors got to know their tandem partners personally for the first time and networked with each other. In one-to-one mentoring, students can now reflect on their personal career concerns with a person who has professional experience. The mentors provide insights into their industry, accompany application processes or help to sharpen the applicant profile. In addition to regular exchange meetings, the program offers career-enhancing opportunities such as the International Career Fair and workshops. The program ends in November 2022.
This year's mentees are 12 international master's students or advanced bachelor's students, primarily in engineering, who are specifically planning their entry into the German job market. "Tandem2Job is a great opportunity for international students who have no experience in job search and work culture in Germany," said a mentee from the first cohort in 2021.
The mentors are TU Dortmund alumni from various departments who are now working successfully in companies in the pharmaceutical and chemical industries, mechanical engineering and automation, construction, insurance, retail, healthcare or a software startup. Some of them have an international background themselves or have worked internationally for many years. Working together with the young international talents of tomorrow offers the mentors a profitable intercultural exchange of experience. This is how one participant from the first program run describes it: "I am pleased that I was able to help my mentee and at the same time learn from him and develop myself further."
Location & approach
The facilities of TU Dortmund University are spread over two campuses, the larger Campus North and the smaller Campus South. Additionally, some areas of the university are located in the adjacent "Technologiepark".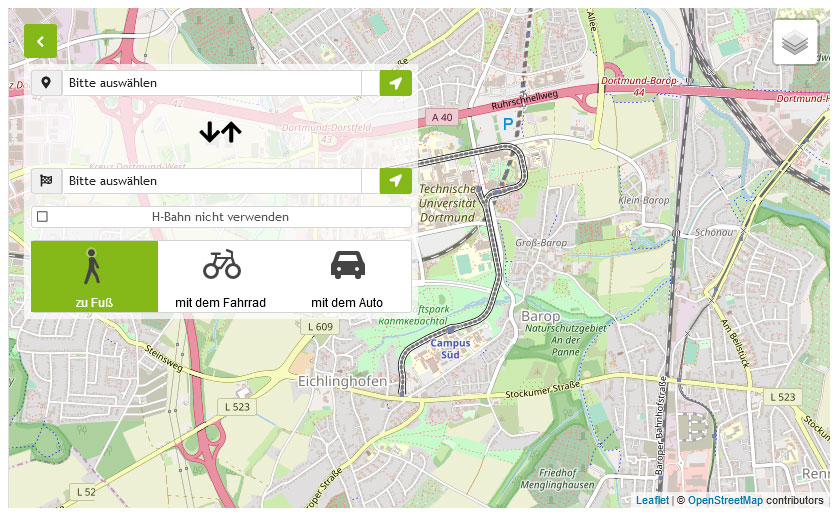 Zum Lageplan