The World Is Open
Finding the Right Position
The search for an internship is great practice for the job search after your studies: You need to take your time finding appropriate host institutions, and it is best to send off more than one application. However, students at TU Dortmund University are not completely on their own: The International Office has tips and contacts to help you find the right host.
You don't know where to start? In Moodle you'll find the most current information, just for TU Dortmund University's students:
Current internship postings
Current scholarship postings
Information and links for your degree program, sorted by department
Companies across the world that welcome applications
Moodle Group for International Internships
Internship Programs through the International Office/DAAD
The university's own programs as well as AIESEC and the DAAD's programs help you get in touch with companies faster and give you more than practical experience; you get to participate in a cultural exchange as well.
Volunteer Work and Social Projects (in German)
Volunteer work is not just relevant for students in the social sciences or humanities. Sometimes it is even possible to complete an academic internship as a part of these aid projects: from installing water pipes in an Asian village to working with youth projects in Africa - anything is possible. The application deadlines vary, and some organizations may even place applicants after the deadline. Further information is available directly from the organizations' websites.
One advantage to these organizations is that a scholarship often comes automatically with the placement in a project. Please note that the descriptions for these organizations are in German.
You'll find further projects in the country-specific information below and in the degree-specific information on the Moodle page.
Non-profit Placement Organizations (in German)
Country-specific Information (in German)
You know exactly where you want to go? Here you'll find databases, placement organizations and further links and tips divided up by countries. (in German)
Location & approach
The facilities of TU Dortmund University are spread over two campuses, the larger Campus North and the smaller Campus South. Additionally, some areas of the university are located in the adjacent "Technologiepark".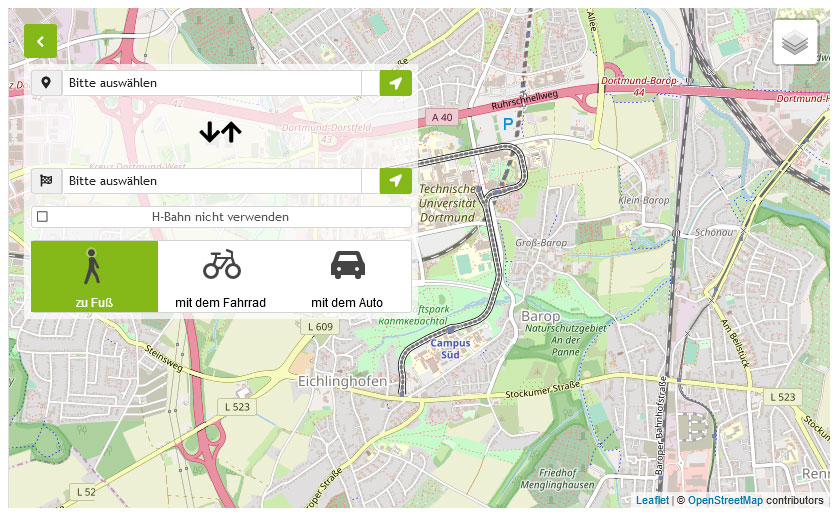 Zum Lageplan