Generally anyone who wants to gain practical experience in a country outside of the EU - and for foreign students in some cases even in the Schengen area - must apply for a visa.
Visas can only be issued by the consular office of the country in which you plan to carry out your internship. Since the conditions and formalities for these applications can change at any time, please treat only the information that comes from the representative body for your host country as valid. An overview with links to each website is available on the Federal Foreign Office's website.
Tip:
Placement agencies like College Council (see below) can usually help you apply for the visa for particular countries (for a fee). This is especially helpful if there is not much time until the planned start date (from four to eight weeks).
Please note: The International Office cannot offer visa advising. The office is only responsible for sending the CoS application for Erasmus+ internships in the UK to the British Council (through spring 2023). Please refer to the respective consular offices for information about the visa application process.
It is only possible to apply for a visa for an internship in the framework of an exchange program (full list, e.g. Erasmus+). Interns will need to apply for the Temporary Worker-Government Authorised Exchange visa (T5). We suggest that you start the process very early.
There is no minimum required salary in the visa category T5 (GAE). However, students should be able to prove that they can afford the cost of living through scholarships and/or their salary and savings and will not apply for any public funds in the UK.
Possible Internships
Internships in healthcare, tourism or hospitality are not allowed. School teaching internships are only allowed if the intern is being overseen 100% of the time (no independent teaching).
Research internships under six months at a university in the UK may be considered studies, so that EU citizens may not need a visa. The host university can give more information about this possibility.
Step 1: Certificate of Sponsorship
In order to apply for the T5 visa you will need a Certificate of Sponsorship (CoS). The Certificate of Sponsorship includes a reference number, which coincides with information about the internship and the participant's personal information, and is valid for three months from issuance.
Erasmus+ Internships through May 2023
If your host company cannot issue a CoS, the International Office applies for the reference number through the British Council on behalf of Erasmus+ participants. The coordinator for Erasmus+ internships will send you further information after you turn in your Erasmus+ application. This process can take four to eight weeks.
Self-organized Internships
(not supported through Erasmus+ or other exchange programs or starting ca. April 2023)
The CoS application may be possible through BUNAC or another organization (full list). If you cannot find an organization to issue your CoS, you will not be able to apply for a visa. Please note the program fees. This process for the CoS can take three to four weeks. The internship may be eligible for a PROMOS scholarship.
Step 2: Visa Application
The visa application can be filled out online after you receive the reference number from the Certificate of Sponsorship and currently costs 244 British Pounds (citizens of some countries will receive a discount of 55 Pounds). The application process can take a further five weeks.
Health Insurance
Anyone with a visa will generally need to pay the Immigration Health Surcharge and will gain access to NHS, the public health services (possibly not relevant for internships under six months). The fee for students is 470 British Pounds per year.
In order to apply for an "Academic Training J1" (internship) visa in the USA, you need a visa sponsor. Be prepared for the application process through the sponsor to take at least six to eight weeks. The following organizations are able to be visa sponsors:
Please note that this is not a complete, exhaustive list of organizations, and no one organization is recommended. Compare offers from several sponsors before you decide on one.
Please note that you will need to inform the Ausländerbehörde of any longer stay outside of Germany. Failure to report a stay abroad could lead to an annullment of your visa for Germany! Additionally it is very important that you remain registered at a residence in Germany.
You may also have to apply for a residency permit for the host country, even in some Schengen states of the EU. Further information is available from the consulate of the respective country.
Location & approach
The facilities of TU Dortmund University are spread over two campuses, the larger Campus North and the smaller Campus South. Additionally, some areas of the university are located in the adjacent "Technologiepark".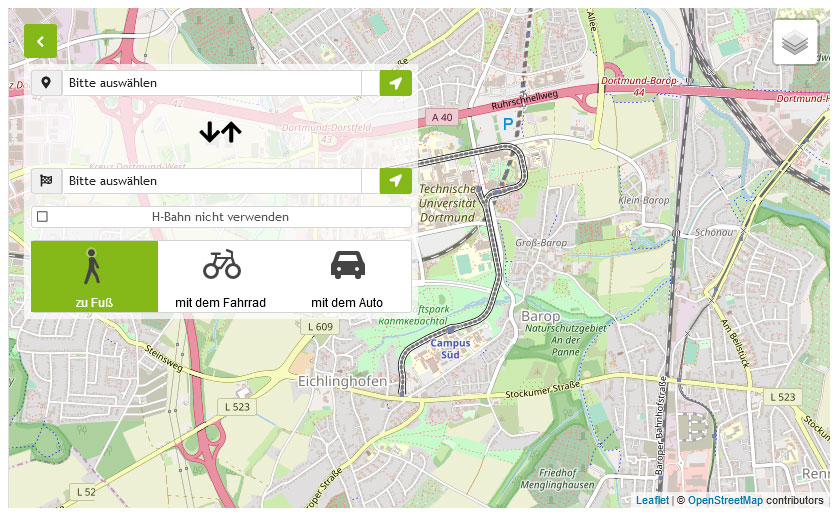 Zum Lageplan