Monthly Stipend for European Internships
Erasmus+ Scholarship
The Erasmus+ program also awards scholarships for internships of at least two months in European countries and is the simplest way to fund an internship in Europe. You normally will have to find your internship position on your own, however the International Office offers assistance during the search for a position.
Virtual Internships
Internships may start remotely if the pandemic hinders a start in the host country. Turn in your Erasmus+ application before the start of the virtual internship in order to receive a daily stipend according to the country-specific rates, should you be able to resume the internship in the host country (incl. quarantine).
Further information is available in our FAQs. Please also read the DAAD's FAQs about Covid-19 (in German).
Please note that the program generations are changing in the 2021-2023 academic years. This information could change at any time during the year.
Regardless of the salary that has been agreed upon with the internship company, students will receive a monthly stipend according to these categories (LG) set by the EU.
The overseas territories of the participating countries are also eligible. Please note that you may only receive a stipend for part of the internship duration.
Regular Program Countries
LG 1: 750 EUR / month
Denmark, Finland, Iceland, Ireland, Liechtenstein, Luxembourg, Norway, Sweden
LG 2: 690 EUR / month
Austria, Belgium, Cypress, France, Greece, Italy, Malta, Netherlands, Portugal, Spain
LG 3: 640 EUR / month
Bulgaria, Croatia, Czech Republic, Estonia, Hungary, Latvia, Lithuania, North Macedonia, Poland, Romania, Serbia, Slovakia, Slovenia, Turkey
United Kingdom (Partner Country)
555 EUR (through ca. WiSe 22/23) | from WiSe 23/24: expected 750 EUR / month
Internships in the UK will remain eligible for Erasmus+ funding. However, you need to research whether or not you will need a visa for your planned stay.
Please note the separate application deadline, 31 March, for all internships in the UK starting in/after WiSe 23/24. We recommend also applying for the PROMOS scholarship, since the funding for the UK is very limited.
The Erasmus+ program aims to "promote equal opportunities and equal access, inclusion, diversity and fairness in all program actions. At the heart of these goals are the organizations and people with fewer opportunities themselves." Students with fewer opportunities can receive an additional stipend of 250 EUR/month.
All internships are eligible for an Inclusion Top Up for these categories. Information about applying for extra funding and eiligibility are available on the website "Equal Opportunities for International Mobility":
Students with special needs (GdB at least 20%) or chronic illness
If your additional costs abroad are higher than this amount, we suggest an application for the actual costs (a so-called "Langantrag").
Students going abroad with their child/children
If your additional costs abroad are higher than this amount, we suggest an application for the actual costs (a so-called "Langantrag").
First-generation students (both parents never received a higher education degree)
Working students who have to give up or pause the job in order to go abroad
Please read the information about the exact conditions and turn in the "Honorary Declaration/Ehrenwörtliche Erklärung" (in the application materials section) with your application if one or more of these categories applies to you.
Internships in the UK
Internships in the UK through the SoSe 2023 are subject to other conditions and rates. Inclusion Top Ups may only be awarded for students with special needs (GdB at least 20%), chronic illness or children. Get in touch with the International Office early to receive additional information about any possible additional funding for the UK. Beginning in WiSe 23/24 the same conditions and rates as for other Erasmus+ internships will apply.
Choose an environmentally friendly method of traveling to and from your internship destination, and you will be rewarded. A one-time stipend of 50 EUR as well as an additional stipend for up to 4 travel days are available for "traveling green". For the travel days there are daily rates set according to the country category (LG). In order to apply for this extra stipend, fill out the "Ehrenwörtliche Erklärung" in the application materials section.
This stipend is not available for stays in the UK through the SoSe 2023.
© Referat Internationales​/​TU Dortmund
Location & approach
The facilities of TU Dortmund University are spread over two campuses, the larger Campus North and the smaller Campus South. Additionally, some areas of the university are located in the adjacent "Technologiepark".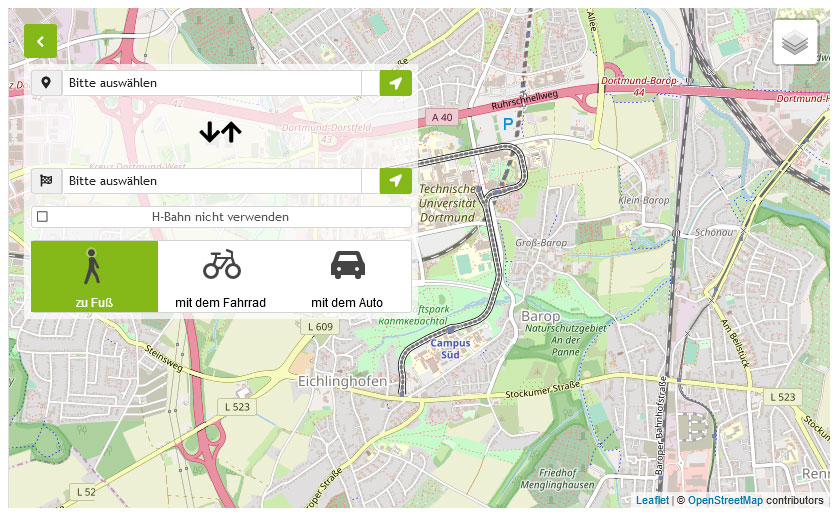 Zum Lageplan