First Global Gallery at TU Dortmund University – A Story of Success!
Global Gallery
On 27 Januar 2020, a new event took place in the International Meeting Center (IBZ) for the very first time: in the style of a vernissage, a total of 30 extraordinary international research projects were presented to the university public in a poster gallery walk.
Superseding the previous format of the International Reception, all guests could vote for one of their favorite projects and three of these projects were awarded 1,500 EUR each. More than 170 guests gathered to celebrate the international efforts of TU Dortmund University. In particular, the lively dialogue between all project participants and the guests was the focus of this event.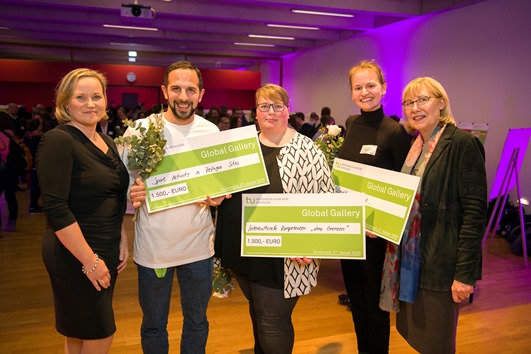 Among the three projects with the most votes was the project "Umweltgerechtigkeit, Environmental Justice, Justiça Ambiental" by students of the Faculty of Spatial Planning. In Brazil's big cities São Paulo and Rio de Janeiro, environmental injustice is particularly evident. Therefore, the student project deals with the connections between environment, health and the social situation in Brazil. During an excursion to Brazil, the participants will collect data on air quality in different neighbourhoods of the cities and draft maps which depict the pollution in these districts.
The second winning project is located at the Faculty of Mechanical Engineering. In the "Engineers without Borders Challenge", teacher training students at TU Dortmund work together with American students from the University of Georgia on real problems of development cooperation. The aim is to find sustainable, practical and culturally appropriate solutions. By taking part in the Challenge, participants learn to think outside the box, train self-organisation, teamwork and their communication skills, and deal with everyday life and cultural conditions in the countries for which solutions are being developed.
In the third project which was awarded 1,500 EUR, Dr. Enrico Michelini from the Institute of Sport and Sport Science researches - in cooperation with the United Nations High Commissioner for Refugees - the role of sports in refugee camps. In May 2019, Dr. Michelini spent four weeks in refugee camps in Niamey, the capital of the West African country Niger. His research showed that sport in refugee camps do not only provides physical exercise, but also mental strengthening. Sport is also used as an educational measure. In the next step, Dr. Michelini will work with the United Nations to develop a concept on how refugees can be optimally supported through sports.
Location & approach
The facilities of TU Dortmund University are spread over two campuses, the larger Campus North and the smaller Campus South. Additionally, some areas of the university are located in the adjacent "Technologiepark".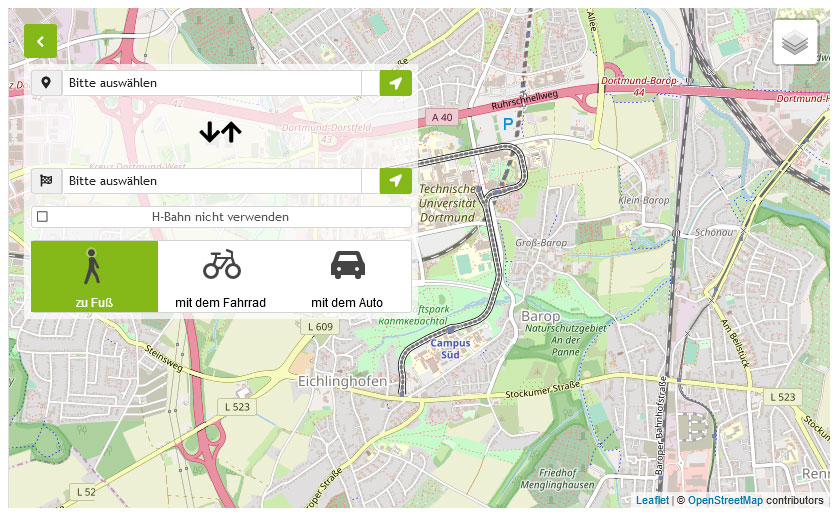 Zum Lageplan