Sustainable Travel
Explore the World in an Environmentally Friendly Way
A stay abroad is an excellent way to take in new perspectives both professionally and personally and to get a better understanding of other people and cultures. Traveling unfortunately always leaves an ecological footprint, but students can still try to make their travel and everyday life as carbon-neutral as possible, even during a stay abroad.
Tips for Sustainable Travel
There are many ways to make stays abroad during your studies sustainable, resource-efficient, and climate-friendly as well. Use these tips when planning your stay abroad!
You can find good examples for suustainable travel in the testimonials from the fabcing scholars: The Department of Biochemical and Chemical Engineering's alumni association (fabcing) awards scholarships to students who choose sustainable methods to travel to their destinations, even outside of Europe. And this blog page​​ shows how you can make even a long sustainable trip (e.g. to Greece) entertaining and also experience all the Europe has to offer on the way.
Sustainability in the New Erasmus+ Program
Green Erasmus+
The new Erasmus+ program generation is more inclusive, digital and green. Physical mobility and face-to-face cultural exchange remain core elements of the Erasmus+ program. However, physical mobility resulting from student as well as teaching stays, internships or travel in the context of transnational cooperation projects inevitably leads to CO2 emissions.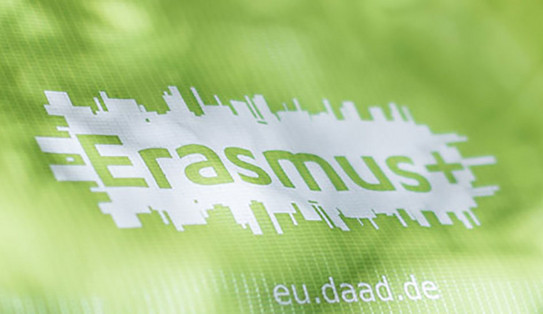 The focus of the transversal priority Sustainability is to raise awareness among Erasmus+ participants on the issues of sustainability, climate change and environmental protection, and in particular on the ecological footprint that participants create through mobility. By raising awareness and offering financial incentives, the number of mobilities with more environmentally friendly means of transport shall be increased and the ecological footprint of the Erasmus+ program reduced. Furthermore, the promotion of competences that are important for living in a sustainable and resource-efficient society and economy, so-called "green skills", will be addressed by promoting cooperation projects on "green" topics.
The topic of sustainability in the new Erasmus+ Program is based on two dimensions:
The ecological footprint of the program
The program's contribution to societal change towards a sustainable world
These dimensions will be addressed in the 2021-2027 program generation through the following focal points:
Green mobility
Raising awareness of sustainability, environment and climate change issues
Cooperation projects on "green" topics
Use of the tools of digital transformation
Students in Erasmus+ programs who plan their outward and return journeys in a more environmentally friendly way will receive an additional grant. Organize your trip by bus, train or carpool and you will receive in addition to your Erasmus+ Mobility Grant a one-time stipend of 50 EUR as well as an additional stipend for up to 4 travel days. You must cross at least one national border in order to receive the grant. For the travel days there are daily rates set according to the country category.
Info: Currently, the use of an electric car can only be classified as a sustainable travel alternative if carpooling, as is the case with ordinary vehicles. Those who carry out their journey with the electric car but alone are unfortunately not eligible for a green travel grant.
Application
After Your Stay Abroad
Please save all supporting documentation and proof from you trip and be prepared to turn it in right away if you are ever prompted do so. Spot checks will be conducted throughout the year.
Contact
E-mail Inquiries
General inquiries: going-abroad @tu-dortmund.de
Erasmus+ study abroad: erasmus-outgoings @tu-dortmund.de
Office Hours
(Only) Erasmus+ Study Abroad:
Office hours via telephone/zoom Hella Koschinski: by prior arrangement
Tel.: 0231 755-6247
Office hours in presence: only with appointment
Tue 9:00-12:00
General Inquiries - Outgoings (Studies/Internships/Short Programs):
Office hours via telephone/Zoom: without appointment, open
Tel.: 0231 755-4728
(Wednesdays and Thursdays in the morning)
Office hours in presence: only with appointment
New appointments will be released 14 days in advance.