Sustainable Travel
Explore the World in an Environmentally Friendly Way
A stay abroad is an excellent way to take in new perspectives both professionally and personally and to get a better understanding of other people and cultures. Traveling unfortunately always leaves an ecological footprint, but students can still try to make their travel and everyday life as carbon-neutral as possible, even during a stay abroad.
Tips for Sustainable Travel

There are many ways to make stays abroad during your studies sustainable, resource-efficient, and climate-friendly as well. Use these tips when planning your stay abroad!
Sustainability in the New Erasmus+ Program
Green Erasmus+
The new Erasmus+ program generation is more inclusive, digital and green. Physical mobility and face-to-face cultural exchange remain core elements of the Erasmus+ program. However, physical mobility resulting from student as well as teaching stays, internships or travel in the context of transnational cooperation projects inevitably leads to CO2 emissions.

The focus of the transversal priority Sustainability is to raise awareness among Erasmus+ participants on the issues of sustainability, climate change and environmental protection, and in particular on the ecological footprint that participants create through mobility. By raising awareness and offering financial incentives, the number of mobilities with more environmentally friendly means of transport shall be increased and the ecological footprint of the Erasmus+ program reduced. Furthermore, the promotion of competences that are important for living in a sustainable and resource-efficient society and economy, so-called "green skills", will be addressed by promoting cooperation projects on "green" topics.
The topic of sustainability in the new Erasmus+ Program is based on two dimensions:
The ecological footprint of the program
The program's contribution to societal change towards a sustainable world
These dimensions will be addressed in the 2021-2027 program generation through the following focal points:
Green mobility
Raising awareness of sustainability, environment and climate change issues
Cooperation projects on "green" topics
Use of the tools of digital transformation
Starting in 2022, students who plan their outward and return journeys in a more environmentally friendly way will receive an additional grant. Organize your trip by bus, train or carpool and you will receive in addition to your Erasmus Mobility Grant a one-time stipend of 50 EUR as well as an additional stipend for up to 4 travel days. For the travel days there are daily rates set according to the country category.
Application
For study abroad: You will receive further information on how to apply after submitting your acceptance letter to the International Office.
For internships abroad: Indicate in your application form if you intend to organize the trip in a sustainable way and turn in the sworn statement with your application.
After Your Stay Abroad
Upon return, you are required to submit all supporting documentation from your trip to show how you traveled. For all stays from 8/2022 you will only need to turn in supporting documentation upon request.
Location & approach
The facilities of TU Dortmund University are spread over two campuses, the larger Campus North and the smaller Campus South. Additionally, some areas of the university are located in the adjacent "Technologiepark".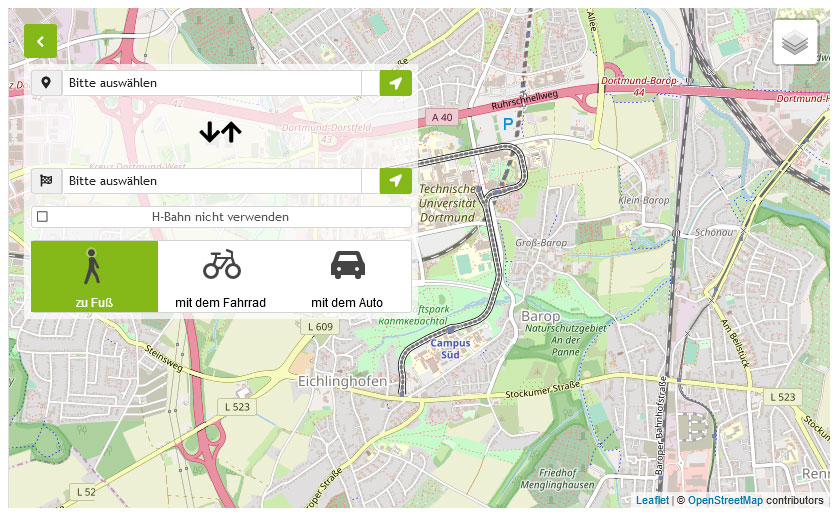 Zum Lageplan