Erasmus European Policy Statement (EPS) 2021-2027
Driving internationalization at TU Dortmund University forward with Erasmus
TU Dortmund University (TUDO) has gained a special profile with 17 faculties ranging from science and engineering to social sciences and culture studies. In the course of global competition, internationalization at all university levels and the associated international networking is an important pillar for making TUDO an even more attractive location for research and teaching in the long term. TUDO maintains active exchanges with partner universities around the world, with a focus on North America, and participates in a number of international mobility programs - the Erasmus program being the most widely used. All groups of the university, students (34,000), professors (300) and academic and non-academic staff (6,500) should benefit from projects within the Erasmus program.
The objectives and activities are clear: TUDO wants to increase international experiences and the awareness of European identity for all groups of the university, whether abroad or at home (concept of "Internationalization at Home"), e.g. stays abroad should become the norm; more English taught Master courses; cooperation with the city of Dortmund; Campus Stadt). Everyone should have access to high-quality (international) education regardless of their social and economic background (e.g. talent scouts; DoBuS). In research a participation in KA2 needs to be increased to internationalize existing and new partnerships. The University Alliance Ruhr, where the Ruhr-University Bochum, the University of Duisburg-Essen and TUDO pool their competences, is e.g. helpful in finding Erasmus internships, apply for KA2 together and help to achieve the priorities of the European Renewal Agenda for Higher Education, such as measures to prevent future mismatches between the demand for and supply of competences.
Digitalization of and sustainability in mobility programs, led by Erasmus Without Papers, plays an important role now and in the future and TUDO is willing to actively support this process.
Location & approach
The facilities of TU Dortmund University are spread over two campuses, the larger Campus North and the smaller Campus South. Additionally, some areas of the university are located in the adjacent "Technologiepark".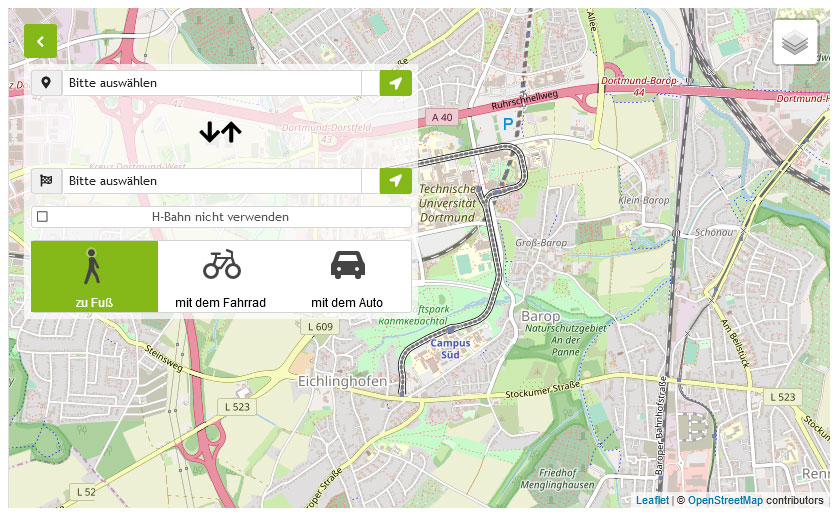 Zum Lageplan