International Event Series
Second Monday
Experience a cooking evening, a night of board games or a creative meeting with students from Dortmund and all over the world!
Would you like to meet with other students and organize different events in various formats?
Every second Monday of the month, you can independently arrange informative, cultural events related to studies or free time activities. You can also organize the events together with your student groups, department, or faculty. We will provide you with a location, advertising, flyers and 50 Euros for food and drinks.

If you are interested in offering an event with one of the above-mentioned topics or if you would like to offer a different event, send us an email (social.counselingtu-dortmund.de) with your idea and plan. We will print flyers for you, give you 50 Euros for food and drinks, and create a certificate of participation as a cultural ambassador.
Read the FAQs below to find out important information for organizing an event.
Key information:
What? Second Monday (free for international and German students)
Who? Departments or other student groups
Where? IBZ or Zoom-Meetings
When? Always on the second Monday of the month
Financing? Up to 50 Euros from the International Office for food and drinks (no alcohol, no deposit on bottles, no cigarettes). The amount can be increased if agreed upon by Ms. Wasila Al-Dubai in advance.
Important:
Create a flyer earlier enough in advance (please pay attention to the requirements) and send it to social.counseling@tu-dortmund.de.
If you will cook at the IBZ, leave the IBZ (especially the kitchen) like you found it and take your garbage with you.
Fill out a participation list.
Keep original receipts and then hand them in to social.counselingtu-dortmundde
Send scans or copies of your receipts per email to social.counseling@tu-dortmund.de.
Send scans or copies of the participation list per email to social.counselingtu-dortmundde .
Location & approach
The facilities of TU Dortmund University are spread over two campuses, the larger Campus North and the smaller Campus South. Additionally, some areas of the university are located in the adjacent "Technologiepark".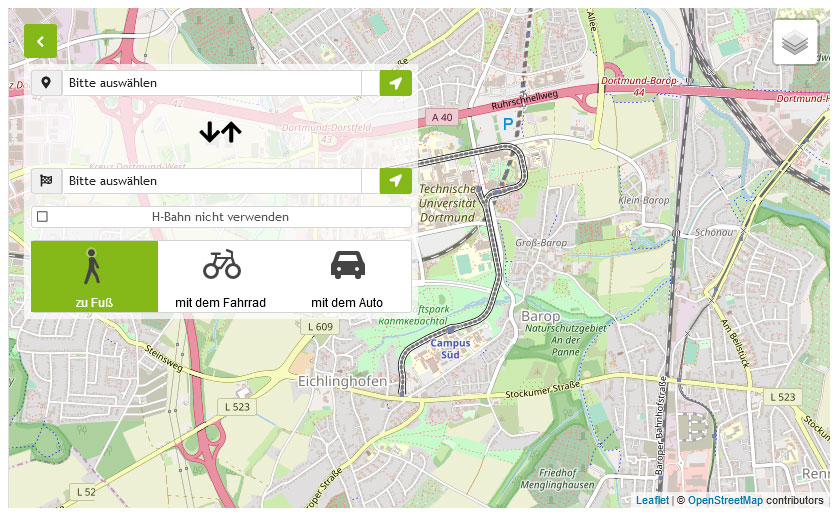 Zum Lageplan