Every second Monday 12:00-01:00 PM, Next: 05/10/21 Location: Online via Zoom
Language café for in­ter­na­tio­nal doctoral students, postdocs and guest researchers - Listening to and speaking German during lunch break.
To offer you a space and the opportunity to practice your German language skills (whether you are already advanced or have just started learning German), the Welcome Services kindly invite you to the next session of the new "Researchers go Deutsch" event series.
Held every other Monday, the lunchtime meeting is a closed room where you can listen to and speak German to become more familiar with the language or just to not get out of practice. At the informal meeting you will have the opportunity to exchange ideas with other learners or ask us questions.
Each meeting is dedicated to a specific topic, about which we inform you together with the access data.
You will receive the access data after a non-binding registration by e-mail.
If you do find the time and are willing to do so, please feel free to prepare according vocabulary, questions, pictures etc. to share your experience with the according topic with us. But this is by no means a must - you can also just join the meeting and see where it goes!
Location & approach
The facilities of TU Dort­mund University are spread over two campuses, the larger Campus North and the smaller Campus South. Additionally, some areas of the university are located in the adjacent "Technologiepark".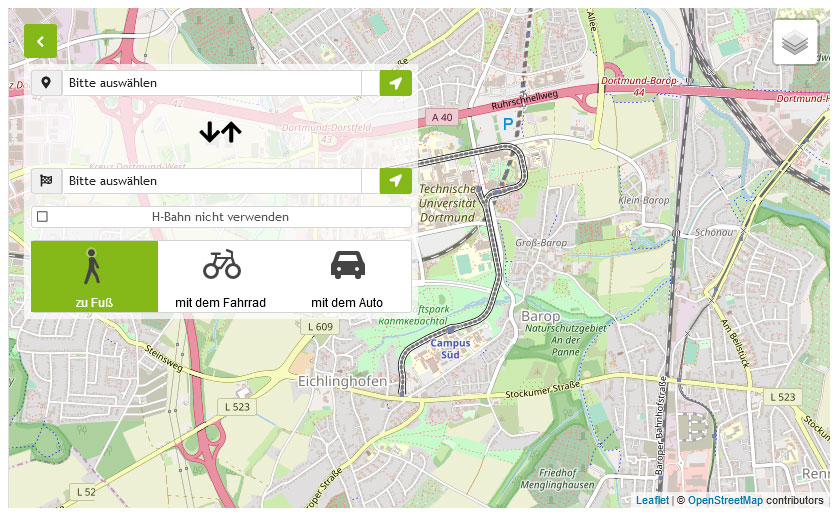 Zum Lageplan