Application Deadline: 10 Scholarships for One Year in "China-Stipendien-Programm"
Begin:
End:
Event type:
Veranstaltungen Internationales

Are you looking to extend your knowledge about China and to strengthen German-Chinese relations in the long term? Apply now for the scholarship programm from the Studienstiftung des deutschen Volkes and the Alfried Krupp von Bohlen und Halbach-Stiftung.
"Das Programm fördert hoch qua­li­fi­zier­te Stu­die­ren­de aller Fächer (außer Hauptfach Sinologie, Kunst, Design und Musik) während eines einjährigen Sprach- und Studienaufenthaltes an chinesischen Universitäten. Es bietet den Teilnehmenden die Möglichkeit, im Rahmen eines zweisemestrigen Studiums an einer chinesischen Hochschule fundierte Kenntnisse der chinesischen Sprache und Gesell­schaft sowie Universitäts- und Wissenslandschaft zu erwerben und anschließend durch ein selbst organisiertes Berufs- oder Forschungspraktikum erste Arbeitserfahrung in China zu sammeln. Jährlich werden zehn Stipendien vergeben."
Further information about the program is availabel in the Flyer (in German) and on the website of the Studienstiftung des deutschen Volkes e.V. ! The program is also open for in­ter­na­tio­nal degree-seeking students in Germany.
Additional programs and information are availabel below under "Related news"!
Location & approach
The facilities of TU Dort­mund University are spread over two campuses, the larger Campus North and the smaller Campus South. Additionally, some areas of the university are located in the adjacent "Technologiepark".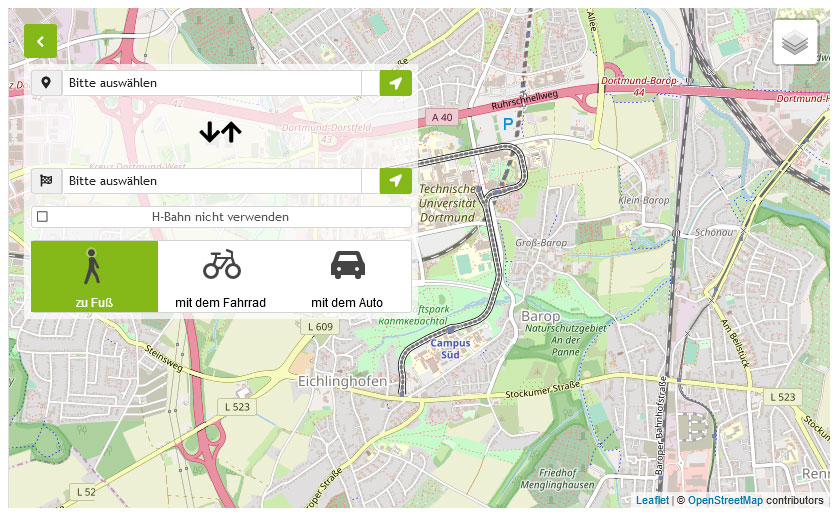 Zum Lageplan