Advice and support from the International Office
Welcome Services for Host Chairs and Institutes
The Welcome Service team advises and supports in­ter­na­tio­nal scientists and researchers who come to the TU Dort­mund University for research stays and acts as a link between researchers, the administration, various external offices and the host chairs and institutes.
We offer a comprehensive range of support and consulting services to both your guests and you for various non-academic questions and concerns.
Our advice and support covers the following topics:
Further, we are happy to advise and support you around the following programs, which can be used to provide targeted funding for individual in­ter­na­tio­nal reseachers:
Philipp Schwartz Initiative: By providing funding, the Alexander von Humboldt Foundation facilitates hosting threatened scientists and refugee researchers at universities and research institutions.
Gambrinus Fellowship: Funds specifically for TU Dort­mund University can be used to support short-term stays by in­ter­na­tio­nal researchers from various disciplines.
Further information:
Please note:
We kindly ask you to register your guests, so that we can provide comprehensive advice.
The manual is up to date as of September 2017, so that some of the information and issues addressed in the chapter on entry and residence are no longer current. You will find up-to-date information on the topic on our website regarding visa and residence.
We are also happy to put you in touch with other services of TU Dort­mund University (e.g. family service).
We are looking forward to your request. You can find our contact on our website.
Location & approach
The facilities of TU Dort­mund University are spread over two campuses, the larger Campus North and the smaller Campus South. Additionally, some areas of the university are located in the adjacent "Technologiepark".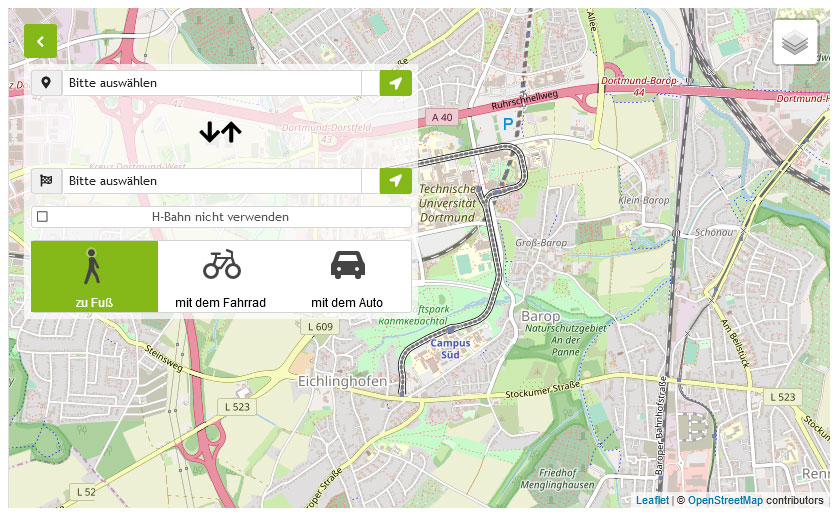 Zum Lageplan