Preparatory Support for Studies
Language Training for Refugees
The language of instruction for the majority of the degree programs offered at TU Dortmund University is German. Thus, you need very good German skills to enroll and participate in a degree program and these need to be certified by a successfully passed and recognized German language test. Exceptions to this rule are only those degree programs which are entirely taught in English. The English skills which are necessary to participate successfully need to be proven by according certificates.
On the website of the Admission and Enrollment Office you can find all the necessary information in regard to the language requirements of the degree programs at TU Dortmund University.
Support Program "NRWege ins Studium"
Since January 2017, TU Dortmund University has been supporting prospective students with a refugee background in the linguistic preparation for their studies at TU Dortmund University. This is made possible by the support program "NRWege ins Studium", which is financed by the state of North Rhine-Westphalia. The funding for this support program runs until December 2022.
The preparatory German courses take place at cooperating language schools within the city limits of Dortmund. In addition, there is an obligatory framework program offered by the Refugee Counseling and Integration Office which aims to consolidate the freshly acquired language skills and promotes integration at the university.
The goal of the language training is to obtain the German language certificate "Deut­sche Sprachprüfung für den Hochschulzugang examination)," thus the preparatory language courses prepare for the DSH exam (level 2 or 3).
The application periods for the language training in 2022 are
15.01. to 31.01.2022
01.03. to 15.03.2022
15.06. to 30.06.2022
01.08. to 15.08.2022
The application takes place exclusively via an online form. The link to the online application form will be published by the start of the next application period.
Please consider our minimum requirements:
A2 German language certificate
a valid residence title (refugee status)
motivation letter (in German)
university entrance qualification (in original language and translation)
Due to the large number of applicants there is no guarantee for a place in the program.

It is currently not possible to apply for a spot in the language training.

The online form will be available by the start of the application period.
Would you like to practice and improve your German language skillsin a casual setting? Then join us in our digital language café.
The language café website has the link to the Zoom meeting as well as further information.
Location & approach
The facilities of TU Dortmund University are spread over two campuses, the larger Campus North and the smaller Campus South. Additionally, some areas of the university are located in the adjacent "Technologiepark".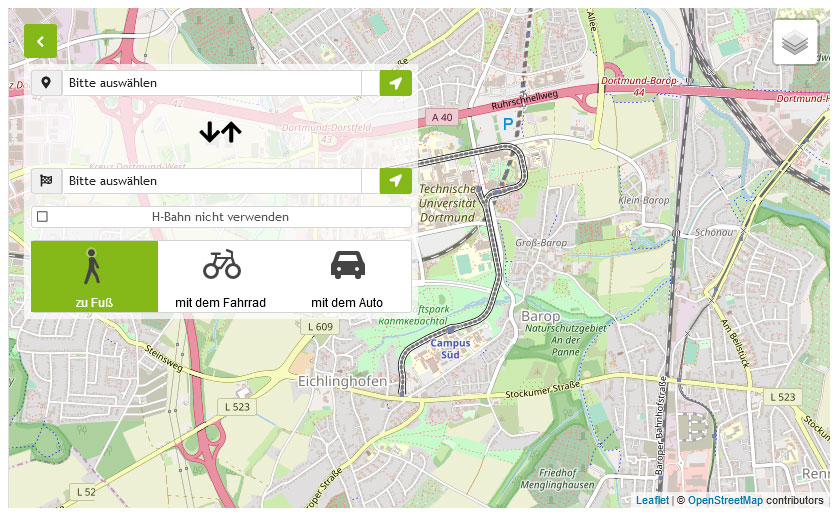 Zum Lageplan