Help & Support
Counseling Services for Refugees
On the following pages you will find helpful information on counseling services and contact points for all aspects of studying at TU Dortmund University.
Currently there is no personal counseling on site at the Refugee Counseling and Integration Office (Clearingstelle für Geflüchtete). Therefore, please contact us for a consultation by phone or via Zoom.
The various counseling services at TU Dortmund University help prospective students with a refugee background
• to choose the right degree program,
• to apply for and get enrolled in a degree program, and
• to solve problems and answer all kinds of questions during the studies themselves.
Office hour for Refugees at the International Office
The Refugee Counseling and Integration Office at the International Office is the first contact point for your questions regarding a degree program at TU Dortmund University.
At the moment, we do not offer counseling on-site. Please contact us by email (refugee.counselingtu-dortmundde) and we will arrange an appointment for online counseling via Zoom or by telephone.
In our individual counseling you can get information on the following topics, among others:
• University entrance qualification (Hochschulzugangsberechtigung, HZB)
• Language requirements for studying at TU Dortmund University
• Language support "NRWege ins Studium" for refugees
• Scholarships for refugees during the initial phase of the studies and for students with a refugee background
• Further support programs and events on the campus
We are also happy to refer you to other counseling services offered by TU Dortmund University. Below you will find an overview of the offers.
Further Counseling Offers at TU Dortmund University
Location & approach
The facilities of TU Dortmund University are spread over two campuses, the larger Campus North and the smaller Campus South. Additionally, some areas of the university are located in the adjacent "Technologiepark".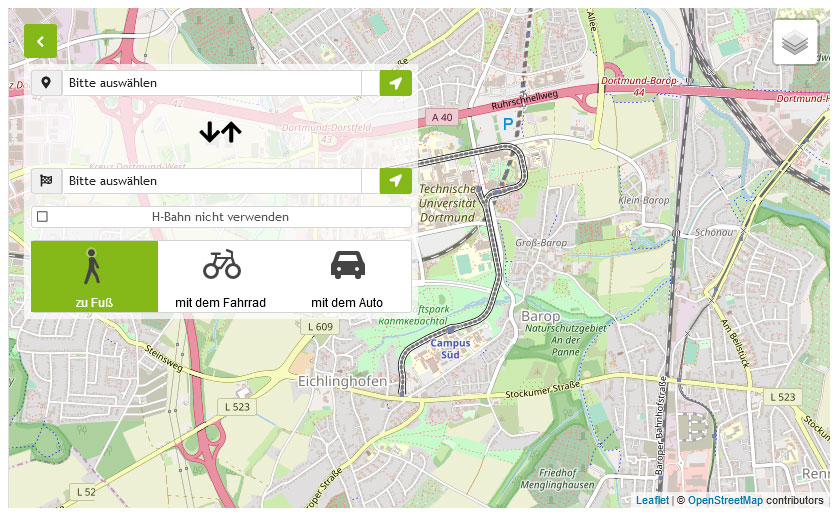 Zum Lageplan