Application for the degree program
Application for an Advanced Semester
Below you will find important information on how to apply for a degree program in an advanced semester.
Please take your time and read the following information carefully, as many fundamental aspects are explained which are­ important for your application­!
There are different ways to­ apply for an advanced semester at TU­ Dort­mund University. ­Which application method is the right one for you personally depends on your choice of study, your nationality and your educational certificates.
Please note: Applicants who­ have acquired their university entrance qualification­ (HZB) and their academic achievements in­ Germany must ­contact the Student Registration Office­ to apply and enroll for an advanced semester­.
What Does "Advanced Semester" Mean?
"Advanced semesters" are all semesters of a degree program or subject greater than 1, so if you­ have already­ studied at TU­ Dort­mund University or another­ university and have previously earned credits, you can apply for the recognition of the credits and, on this basis, for placement in an advanced semester.
For many­ degree programs,­ the so-called "Studiengangjahresregelung" applies­: This means that the start of studies is always in the winter semester. Consequently, within the standard period of study, students can­ only be placed in odd semesters in­ the winter semester­ and in­ even semesters in­ the summer semester.
­There are degree programs­ and subjects at TU­ Dort­mund University­ which are subject to admission restrictions in an advanced semester. You can find out ­whether there is an admission restriction for a degree program or a subject in our overview of the degree programs on offer. If you have any questions regarding the range of degree programs on offer, please feel free to use TU­ Dort­mund University's advisory services.
Contact
Contact us via our contact form or by phone.

Phone: +49 (0) 231 755-6349

We are looking forward to your inquiry!
Location & approach
The facilities of TU Dort­mund University are spread over two campuses, the larger Campus North and the smaller Campus South. Additionally, some areas of the university are located in the adjacent "Technologiepark".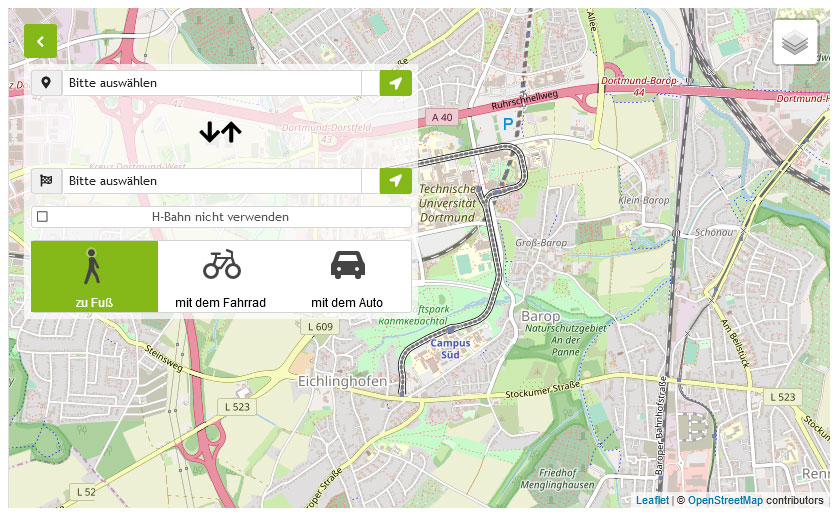 Zum Lageplan