What was it like to transfer from TU Dort­mund University to an elite in­ter­na­tio­nal university?
From the very first week, I was enthusiastic about life as a student in Cambridge. Over time, an unbelievable number of traditions and student societies have developed there, which sweeten the strenuous everyday study routine with exciting and diverse events. Especially at the traditional dinners, which take place frequently, you make many new acquaintances and feel like you're at Hogwarts.
But actually I was there to study. And in this respect, the change wasn't that big, because the quality of teaching at my former Dort­mund faculties of mathematics and physics is really good. In Dort­mund, I was particularly impressed by the support and the positive relationship between lecturers and students. In Cambridge, however, the choice of in-depth courses was much bigger. In my experience, the students themselves make the big difference: All my fellow students in Cambridge were top-notch and fully motivated.
Why did you leave Dort­mund?
You hear everywhere how important experience abroad is for your career, both within and outside academia. My first internship abroad during my bachelor's degree was therefore a bit of a CV tuning exercise. Fortunately, I was able to learn there how formative the experience at another university, in another country, can be. Since then, I have been working towards doing my Master's abroad in order to be able to develop more personally. So it wasn't the TU Dort­mund University's fault that I was drawn abroad. I was really happy in Dort­mund and still feel connected to TU Dort­mund University.
What's next for you?
After my master's degree in applied mathematics, I am starting my doctoral studies at the chair of Björn Andres for Machine Learning and Computer Vision at TU Dresden.
Location & approach
The facilities of TU Dort­mund University are spread over two campuses, the larger Campus North and the smaller Campus South. Additionally, some areas of the university are located in the adjacent "Technologiepark".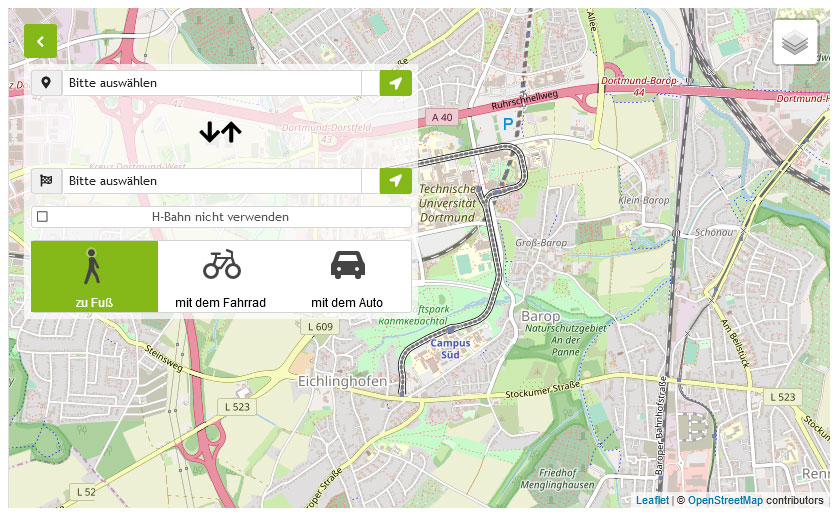 Zum Lageplan