Nominations starting now!
DAAD Award 2022
Admitted and enrolled international students and international doctoral candidates at TU Dortmund University only!
The award with a value of 1,000 EUR distinguishes an outstanding international student or doctoral candidate who has excelled through particular academic performance as well as remarkable social or intercultural commitment.
Applicants may be nominated by professors, international student advisors of the corresponding faculties or supervisors of the final thesis/dissertation. These applicants may also have graduated just recently.
Nominations should be timely, since the recommendations from the Dean's Office must be submitted to the International Office by 15 August 2022. The rectorate will subsequently review the nominations and select the awardee.
1. Only international applicants with a foreign higher education entrance qualification may apply.
2. The candidates should
study in a Bachelor's degree program in an advanced semester (at least 2nd or 3rd year),
study in a Master's degree program in an advanced semester (at least 2nd semester) or
be in the process of writing their dissertation to finalize the doctoral qualification process.
If applicable, have recently completed their studies may also be nominated (graduation must not be longer ago than three months when the DAAD award ceremony takes place)
Nomination criteria:
The DAAD prize is not a research prize and is therefore not intended for the scientific appreciation of a doctoral thesis.
The prize cannot be split between several students.
The prize cannot be awarded to DAAD scholarship receivers or foreign students with a German highschool (Abitur) education.
The prize cannot be awarded twice to previous DAAD Prize holders.
one nomination letter by the dean of the faculty, international student advisor, faculty student council, final thesis supervisor etc.
maximum 3 recommendation letters from e.g. the student advisor, faculty staff or final thesis supervisor
tabular résumé/curriculum vitae of the candidate
transcript of records
current enrollment certificate
proof of social or intercultural commitment at TU Dortmund University
one to three letters of recommendation from other parties, e.g. external employers, previous or current internships or (part-time) jobs
motivation letter of the applicant (briefly describe why you are applying for the DAAD Award)
The award ceremony will take place during the "Come2Campus" welcome event for international first-year students on October 4, 2022.
Application deadline: 15 August 2022

Application documents can be submitted by the applicants personally or by the nominating person.

Please send your application with all required documents to be submitted both in original copies via post and in digitally via e-mail to social.counselingtu-dortmundde

Original documents can be sent through (internal) universiy post or with the post to the International Office (Emil-Figge-Str. 61, 44227 Dortmund). You can drop your documents in the deadline mailbox in front of the building at Emil-Figge-Str. 61.
2021: Brian Hess (Department of Cultural Studies)
2020: Denis Belonogov (Department of Computer Science)
2019: Elena Shashko (Department of Computer Science)
2018: Komay Saimouaa (Department of Computer Science)
2017: Ahmed Adeil Ilyas (Department of Electrical Engineering and Information Technology)
2016: Jianshuang Xu (Department of Electrical Engineering and Information Technology)
2015: Rajkumar Palaniappan (Department of Electrical Engineering and Information Technology)
2014: Esmeray Üstünyağız (Department of Mechanical Engineering)
2013: Kristian Aknolt Pakpahan (Department of Humanities and Theology)
2012: Maia Iobidze (Department of Educational Sciences and Psychology)
Location & approach
The facilities of TU Dortmund University are spread over two campuses, the larger Campus North and the smaller Campus South. Additionally, some areas of the university are located in the adjacent "Technologiepark".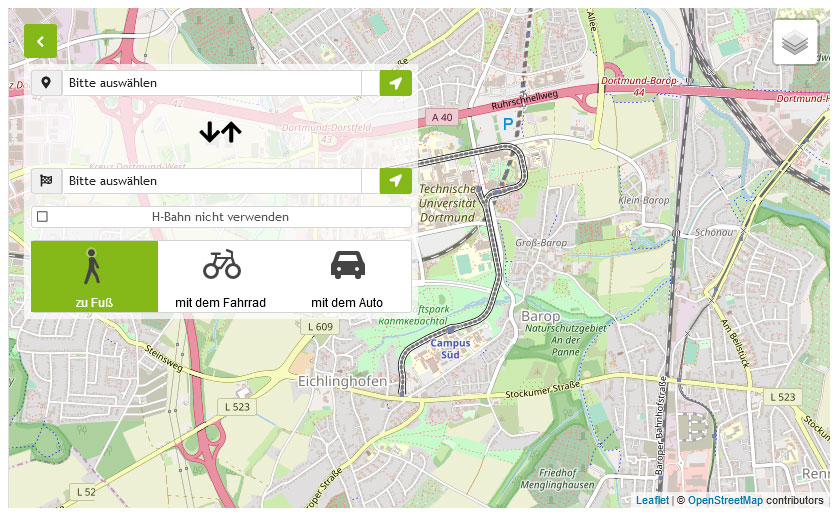 Zum Lageplan