Foreigners' Registration Office
Visa
Students from non EU/EWR countries (third countries)
Please note that you may need a visa for Germany even if you have already acquired a residence permit for another EU-country.
Please inform yourself as soon as possible at the German embassy in your home country about the entry requirements and which documents you need to apply for a visa. It is necessary to apply for the visa or residence permit while you are still in your home country. For further information on the visa application, please visit the website of Study in Germany.
Necessary documents to apply for a visa:
a valid passport, biometric passport photos
a university entrance qualification which is recognized in Germany (school-leaving certificate like A-Levels or equivalent)
proof of your previous academic performance
proof of financial resources
letter of admission from TU Dortmund University
Attention: The processing of visa applications can take from a few weeks up to several months, so please apply as soon as possible. Come to Germany under no circumstances with a tourist/travelers visa only (Schengen visa). It cannot be extended and is only valid for a maximum of three months.
Registration at the Foreigners' Registration Office
Everyone who stays and takes up residency in Germany must register their residency within the first three days after their arrival at the Foreigners' Registration Office.
It is highly recommended to arrange an appointment online for the registration process to avoid a potentially long waiting time. However, reserving a registration appointment is not mandatory. You will find the required documents for the residency registration on the website of the city of Dortmund.
Residence permit during the job search
After you have successfully finalized your degree program at university, there is a possibility to stay in Germany in order to search for a job. This specific residence permit allows you to stay in Germany for 18 additional months to find a job that is appropriate for your qualifications. The time span of 18 months begins as soon as you have received the last grade of your degree.
Recommendation: We encourage you to start searching for a job as soon as possible. We also recommend to book an appointment in advance with the Foreigners' Registration Office to plan your stay in Germany.
Residence permit for employees
As soon as you have been offered a work contract, you need to contact the Foreigners' Registration Office to apply for a residence permit for employment purposes. The job has to suit your academic qualifications and must be approved by the Foreigners' Registration Office before a new residence permit can be issued. For this purpose you must hand in documents like your work contract and confirmation of your health insurance coverage.
Inform the Foreigners' Registration Office about changes during your residence if:
you leave Germany for a semester abroad or for a vacation semester.
you work as a freelancer.
you change your major subject or the university.
you lose your passport.
you have missed the visa extension appointment.
Location & approach
The facilities of TU Dortmund University are spread over two campuses, the larger Campus North and the smaller Campus South. Additionally, some areas of the university are located in the adjacent "Technologiepark".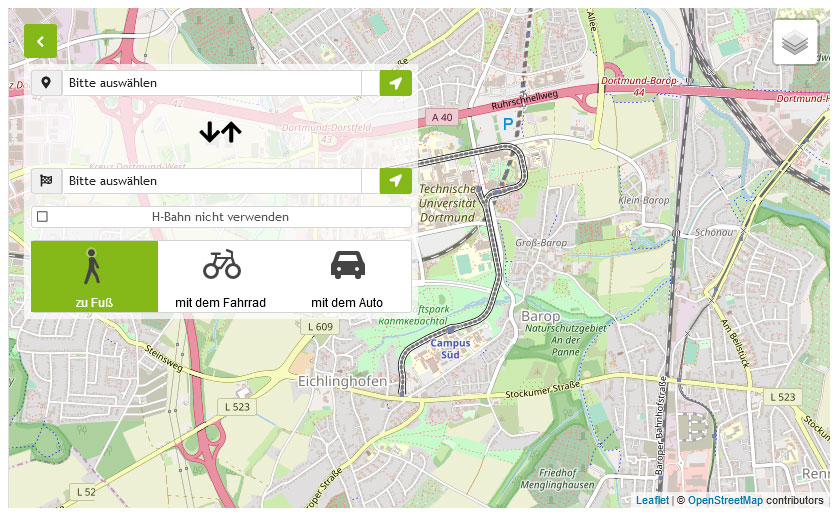 Zum Lageplan