Active on campus
University Sports
From A for aerobics to Z for Zumba: The Office of University Sports (HSP) of TU­ Dort­mund University offers a comprehensive range of about 100 different sports courses.

The range of university sports is divided into the areas of ball sports & games, budo & martial arts, fitness & health sports, individual sports, nature sports, setback games and dance.
A gym is also located on campus: the FFW-Fitnessförderwerk (DE). This is only accessible to students and employees of TU Dort­mund University & University of Applied Sciences Dort­mund.
The HSP also organizes a variety of additional events at regular intervals, such as the Campus Run or the Climbing Cup.
The sports program is updated and redefined every semester. In order to book courses requiring registration and to participate in the sports program, a sports card is required, which can be purchased online or during office hours at the Office of University Sports.
On the website of the Hochschulsport you can find further information (DE) about the courses offered, booking the sports card and relevant contact details of the university sports team can be found .
For employees of TU Dort­mund University, the Occupational Health Management (BGM) also offers various additional services and training measures such as first aid courses or mobile massages.

Location & approach
The facilities of TU Dort­mund University are spread over two campuses, the larger Campus North and the smaller Campus South. Additionally, some areas of the university are located in the adjacent "Technologiepark".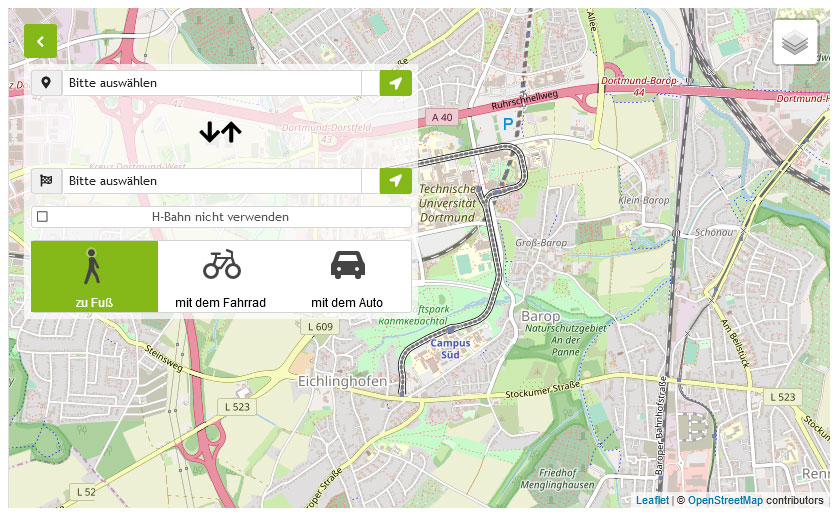 Zum Lageplan