Save in the daily university life
Insurance
Please be aware of the fact that every student has to be insured or provide an exemption from statutory health insurance! Without a certificate from your health insurance provider or a confirmation of exemption from statutory health insurance, the university cannot admit or enrol you as a student.
By law, all international students under the age of 30 have to be a member of a statutory health insurance (GKV) or possess an exception document (Befreiung von der GKV) from the statutory health insurance.
The monthly rate for the statutory health insurance for students is currently about €110.00.
Students attending a preperatory German language course have to take out private health insurance. As soon as you are registered at the private health insurance, you should request the exception document which releases you from the obligation of having to be registered at a statutory health insurance in Germany.
International students aged 30 and older cannot be a member of the statutory health insurance anymore. Please be aware that the private health insurance benefits can vary significantly, depending on the chosen provider. In order to obtain a suitable health insurance fitting your needs, you should carefully peruse the insurance policy and inform yourself about the included benefits.
Important: We would like to bring to your attention that all health insurances are in a position to cancel your contract if the monthly fees are not paid accordingly. If you are privately insured, you will lose the insurance cover as soon as you have omitted one single payment.
You can find more information about health insurance here.
The health insurance provider will also inform the university that the contract has been canceled and that the person is no longer a member. Thereupon, the university is obligated to remove you from the register of students.
You can also find helpful information and important advice about health insurance on the following websites:
It is not obligatory for students to have a liability insurance but highly recommendable!
This insurance is needed in case you unintentionally harm another person. Ín such cases, you usually have to compensate the damaged party. This refers both to personal injury and material damage (for example in your rented apartment). If you are insured, your liability insurance will cover the costs.
You can get this sort of insurance at almost every insurance company and it costs about €5 per month.
Location & approach
The facilities of TU Dortmund University are spread over two campuses, the larger Campus North and the smaller Campus South. Additionally, some areas of the university are located in the adjacent "Technologiepark".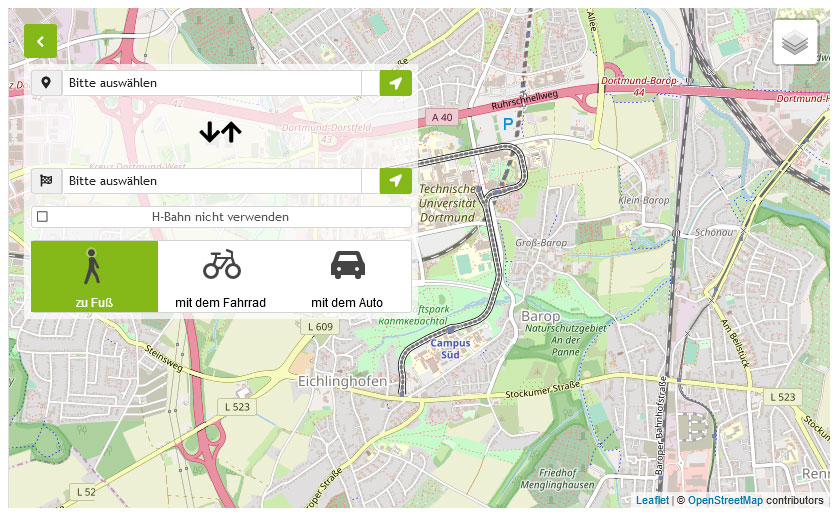 Zum Lageplan