Arrive safely at TU Dort­mund University
Mobility and Transport
TU ­Dort­mund University is a campus university, its faculties and service facilities are mainly distributed between the North and South campuses. In the right sidebar on all TU Dort­mund University­ websites you will find information on how to get to the university and on mobility possibilities on campus at any time.
Students (Bachelor, Master, Doctorate) of TU ­Dort­mund University receive a semester ticket for public transport in cooperation with the AStA and the respective transport associations.
The printed semester ticket, in conjunction with an official photo ID, is valid as a travel authorization for regional transportation within the Rhine-Ruhr Transport Authority (VRR) and throughout North Rhine-Westphalia.

Important information: The semester ticket can only be obtained by in­ter­na­tio­nal academics who are registered as doctoral students.
In cooperation with DSW21, TU Dort­mund University offers its employees the opportunity to obtain a Job Ticket / Key Account Ticket.
This is a monthly pass in a public transport season ticket at reduced prices (wholesale discount). Different types of tickets with different conditions are available.
The ticket is a non-transferable ticket which only the ticket holder may use. It is valid for the entire week for any number of journeys, also in leisure time, around the clock in the selected area of validity.

Requirements:
All employees whose employment contracts have a minimum term of 12 months when applying for a Job Ticket / Key Account Ticket can order the Job Ticket / Key Account Ticket. The costs vary depending on the subscription chosen.
As long as the requirements are met and you are registered as an employee of TU Dort­mund University, you can find all further relevant information (ticket types, conditions, costs) and request the Job Ticket / Major Customer Ticket via the following internal link (DE).
Location & approach
The facilities of TU Dort­mund University are spread over two campuses, the larger Campus North and the smaller Campus South. Additionally, some areas of the university are located in the adjacent "Technologiepark".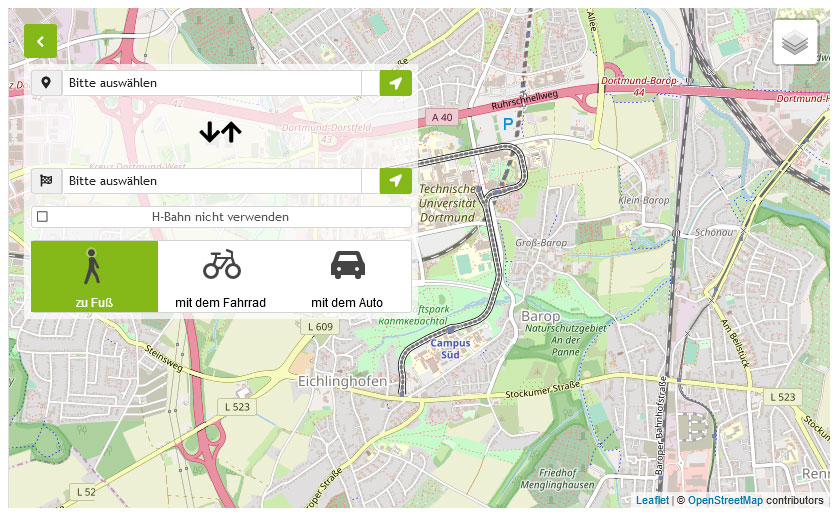 Zum Lageplan