Learn German with other researchers
Language Courses at TU Dortmund University

In the university context, the English language allows to get along very well. However, for everyday life outside the academic context, a basic knowledge of German is essential. Therefore, you are welcome to take advantage of German courses and our language café and make shopping, getting to know colleagues or traveling within Germany a lot easier.
The Language Course Program
The language course program is tailored to the specific needs of the target group and is financed by the DAAD with funds from the Federal Foreign Office. The language skills levels are according to the Common European Framework of Reference, CEFR.
Courses in the summer semester 2021:

German for international doctoral students and postdocs A1 (beginners without previous knowledge)
16.04.2021 - August 2021
Fr. 12:30 - 15:45, online

German for international doctoral students and postdocs A2 (beginners with previous knowledge)
13.04.2021 - August 2021
Tue. 18:30 - 20:00, online
Thur. 16:30 - 18:30, online

German for international doctoral students and postdocs B1 (advanced)
12.04.2021 - August 2021
Mo. 18:00 - 20:15, online
Wed. 18:00 - 20:15, online
Courses in the A1 and A2 levels are four hours per week. The participation in the language courses is free of charge. The number of participants is limited.
Get further information about the courses.
The registration for the German courses can be done by Dr. Carsten Martin via e-mail or personally in his office hours (Wednesday, 10:00 - 12:00).
In addition, international doctoral students can register for all other language courses at the ZHB, since they are registered as (doctoral) students. You can view the course program and register via UniAccount on the course platform.
Language Café "Researchers go Deutsch"
Every two weeks, the Welcome Services offer in­ter­na­tio­nal researchers at TU Dort­mund University the opportunity to practice and improve their German language skills, ask questions and exchange ideas with other learners during the lunch break.
Next meeting: 26 July 2021, 12:00-13:00 (UTC+01:00)
Topic: Favourite Spots in Dortmund
For a one-time and non-binding registration please send an e-mail.
Those who have already participated once do not have to register each time, but will automatically receive an e-mail with the access link and the topic for the upcoming meeting.
Location & approach
The facilities of TU Dortmund University are spread over two campuses, the larger Campus North and the smaller Campus South. Additionally, some areas of the university are located in the adjacent "Technologiepark".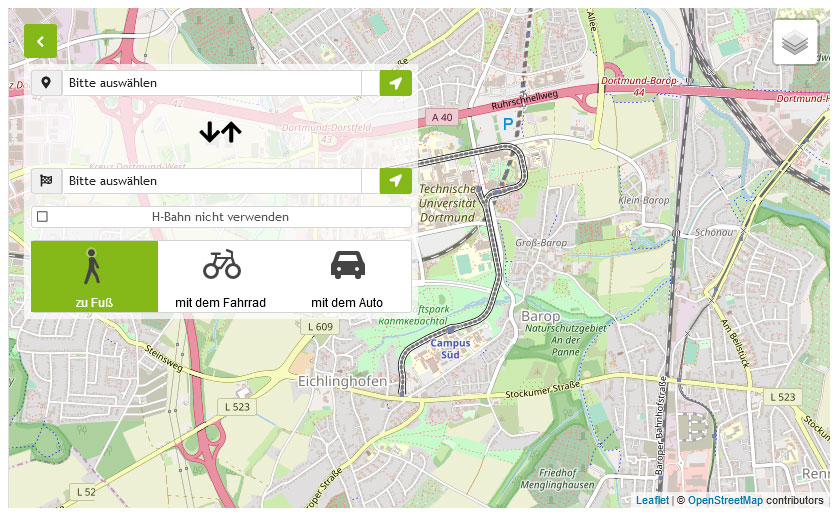 Zum Lageplan