TU Dort­mund University from above
Campus and Faculties
The TU ­Dort­mund University is a campus university, its 17 faculties and service facilities are mainly distributed between the North and South campuses.

For orientation on campus you can either use the classic campus map (second page is on English) or this interactive map (DE).
For the smartphone, TU Dort­mund University also offers an app (DE) including campus navigation (both for iOS and Android).
The 16 faculties of the TU Dort­mund University:
University Library (UB):
The University Library, often called "Bib", is divided into the Central Library and three Departmental Libraries:
the Departmental Library of Architecture and Civil Engineering, the Emil-Figge-Bibliothek and the Departmental Library of Spatial Planning. Here you will find up-to-date information on opening hours and on the extensive use of the library.
Dining and Cafeterias: The Studierendenwerk Dort­mund runs a total of seven catering establishments on TU Dort­mund University's campus offering a wide variety of food. The daily changing cafeteria plans can be viewed on the website of the Studierendenwerk Dort­mund (DE) as well as in the right sidebar of the TU Dort­mund University website under the icon [knife and fork].
AStA: The General ­Students' Committee, or AStA (DE) for short, represents the student body at a college or university and is thus something like the student "government". In addition to representing students, the AStA of TU Dort­mund University offers a range of services, such as advice on studying or finding accommodation and work.
Lost and found: The central lost property office (DE) of TU ­Dort­mund University is located at the gatekeeper's office in building EF 50. (Emil-Figge-Straße 50, Tel.: (+49)231 755-2161)
Location & approach
The facilities of TU Dort­mund University are spread over two campuses, the larger Campus North and the smaller Campus South. Additionally, some areas of the university are located in the adjacent "Technologiepark".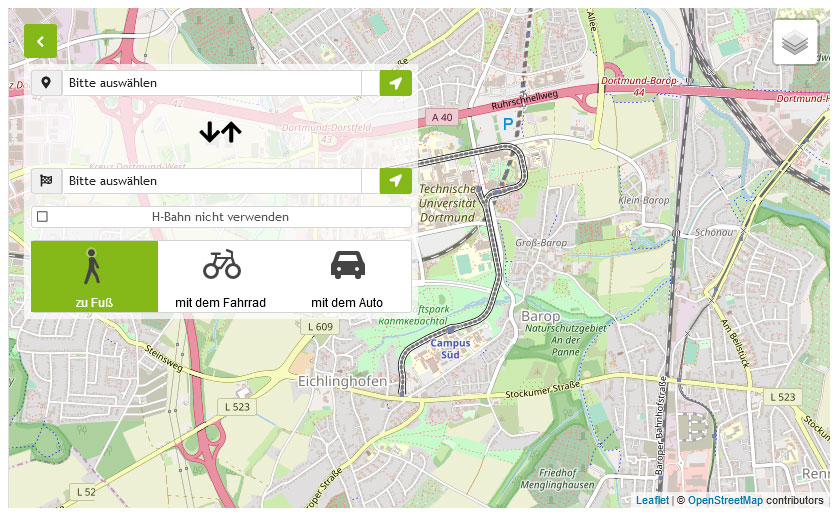 Zum Lageplan