Overview of residence law issues
Visa and Residence
Please obtain information in good time whether you need an entry visa and which residence permits are applicable for you.
As a rule, a corresponding visa is required for entry into Germany. Entry requirements vary according to nationality and length of stay. Citizens of EU and EEA states are exempt from the visa requirement. There are also exceptions to the visa requirement, which are based on corresponding agreements.
You will find an overview of the visa requirement or exemption from visa for entry into the Federal Republic of Germany on the list of countries of the Federal Foreign Office.

The basic rule is:
The visa must be applied for at the German mission abroad (embassies and consulates general) in the home country or country of stay before entry. The processing of the visa takes between two weeks and several months. With this in mind, we recommend that you submit your visa application as early as possible.
Nationals of these countries may enter without a visa. An identity card is sufficient. For stays of more than three months, they must register with the Residents' Registration Office of their new place of residence and provide proof of their freedom of movement.
Nationals of these countries can usually enter without a visa, even if they intend to take up employment. However, if they intend to stay for a longer period (more than 90 days) and before taking up employment, they must apply for a residence permit.
Short stays of up to 90 days (Schengen visas)
You can apply for the Schengen visa (C visa) if your research stay will last a maximum of 90 days. It is important to note that the Schengen visa cannot be extended. A transfer for another purpose of stay cannot be made. After the expiry of a Schengen visa you must leave Germany in any case.
Further information: Federal Foreign Office on the issue of Schengen visas
Long-term stays over 90 days (national visas)
Stays exceeding three months or stays leading to the taking up of gainful employment are generally subject to a visa requirement. The visa for a long-term stay (national D visa) must be applied for at the responsible foreign mission before entry.
A national visa also entitles the holder to short stays in other Schengen countries.
Important note: After entering Germany, you usually have to apply for a residence title at the local foreigners' registration office.
Further information: Federal Foreign Office on the issue of national visas
Important note: As a matter of principle, an appointment must be made with the immigration authority in Dortmund for all matters relating to residence law. You will find the contact information on thecity services' website (only in German).
Additional websites:
The Welcome Service team offers­ international researchers support in dealing with formalities, in particular an accompaniment to the local immigration office to apply for a residence permit. Please contact us and arrange an appointment.
Please note that the information collected by the Welcome Services does not constitute legally binding information and cannot­ replace the information provided by experts in the respective­ field.
We always recommend that you additionally seek individual advice from the foreign mission or the local immigration authorities.
Location & approach
The facilities of TU Dortmund University are spread over two campuses, the larger Campus North and the smaller Campus South. Additionally, some areas of the university are located in the adjacent "Technologiepark".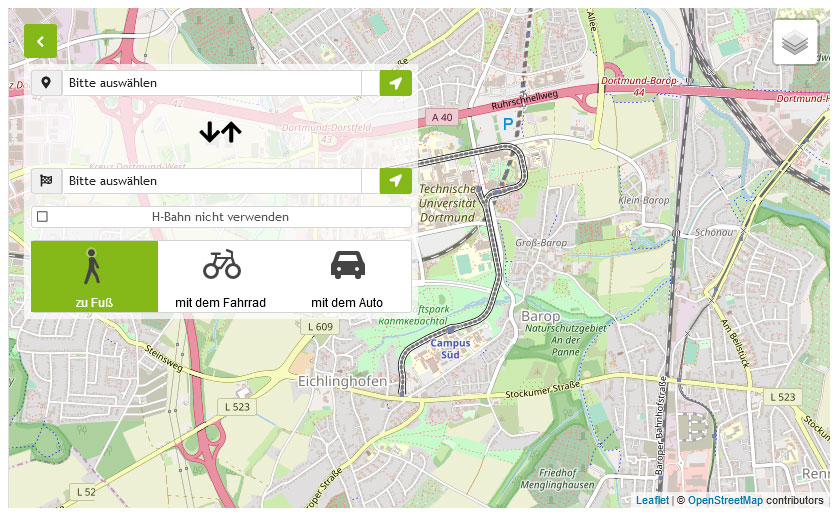 Zum Lageplan