Important documents related to your research stay
Documents and Translations
Find out early on which documents and certifications you will need for your research stay.
The Most Important Documents for Your Research Stay:
Passport or equivalent identification document for you and any other accompanying family member
Important note: As a rule, the document must remain valid for three months beyond the duration of the entire stay in Germany and may not be older than ten years


If necessary, a visa for you and any other accompanying family member

Biometric passport photographs for your residence permit, if applicable, and other documents and identification documents required
Further information: Federal printing office's photo sample board (only in German)

Hosting agreement or letter of invitation from TU Dortmund University

In addition, the following documents are required in many cases:

Your birth certificate and that of every other accompanying family member (with certified German translation if possible)

Marriage certificate (if possible with certified German translation)

Proof of a health insurance valid in Germany for you and each additional accompanying family member (in German or English translation)

Certified copies of your academic degrees (in German or English translation)

(International) vaccination card

Medical documents on existing or past diseases and medications to be taken
Location & approach
The facilities of TU Dortmund University are spread over two campuses, the larger Campus North and the smaller Campus South. Additionally, some areas of the university are located in the adjacent "Technologiepark".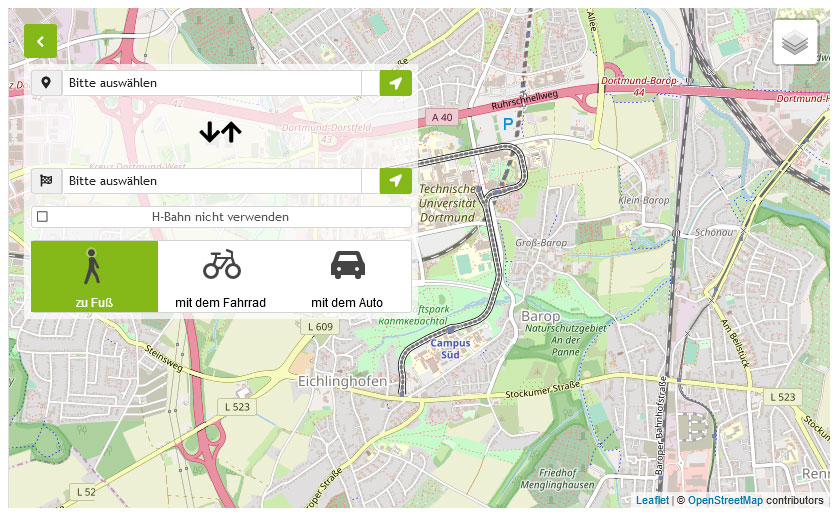 Zum Lageplan