Further education and training
Further Offers for Researchers
Both at the TU ­Dort­mund University and in joint cooperation with external providers and partners, a wide range of interdisciplinary events can be chosen from.
The Graduate Center is the central service facility for early career researchers at the TU Dort­mund University. It supports (prospective) doctoral candidates, postdocs, and junior faculty on their career path by providing individual advice, transferable skills training, and networking.The Graduate Center offers a variety of events on topics relevant to research. These include, for example,the path to a doctorate or professorship, financing options and obtaining third-party funding, self-presentation and time management, or even career planning and application. The event format ranges from the classic­ information event and­ workshop to the well-known ScienceSlam format, which offers young researchers a stage to­ present their­ research to an audience from outside the field. Events are offered in both German and English.
Further information and the current event program of the Graduate Center can be found here.
The Graduate Center is part of the Research Support Services (Referat Forschungsförderung), which serves as a contact for members of TU Dort­mund University in matters such as funding advice, project management and research data management. For more information and additional event offerings, please visit the corresponding website.
In the Research Academy Ruhr (RAR), the universities of Bochum,­ Dort­mund and Duisburg-Essen combine offers for the promotion of young ­scientists. Its range of events is aimed at different target groups and deals with various research-related topics such as career planning, self- and project management, management of research data, scientific networking and women in ­research. The format also ranges from classic events to workshops and an academy lasting several days. Events are offered in both German and English
Further information can be found through the current event calendar (mostly DE).
The Center for Higher Education (zhb) invites national and in­ter­na­tio­nal researchers and experts to present their research findings regarding different aspects of university transformation within the scope of the "Higher Education Research Colloquium Series".
All interested parties – including members of other faculties, students, and externals – are cordially invited to participate in the colloquia.
For further information concerning the talks, please refer to the zhb's website.
Location & approach
The facilities of TU Dort­mund University are spread over two campuses, the larger Campus North and the smaller Campus South. Additionally, some areas of the university are located in the adjacent "Technologiepark".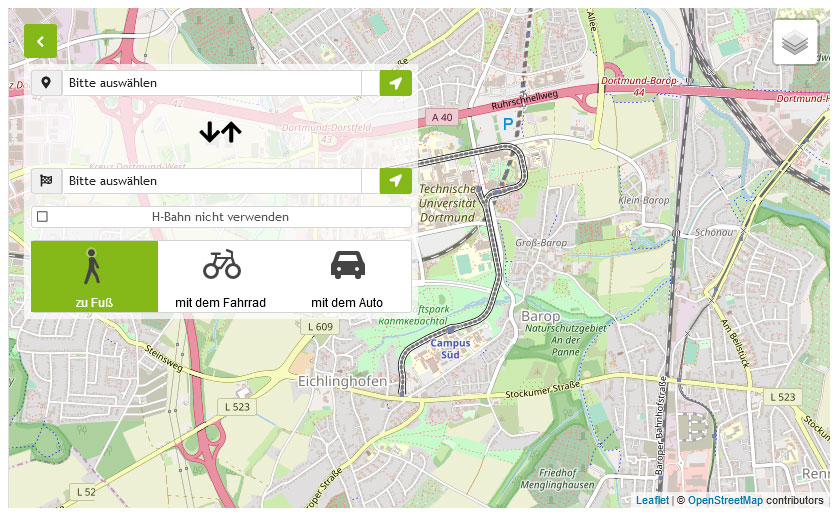 Zum Lageplan