A Stay Close to the Campus
Location and Contact Information
Easily accessible and centrally located. ­Information on the location and­ the requirements for residence requests can be found here.
The address of the guesthouse is Baroper Straße 233, 44227­ Dortmund.
TU­ Dortmund University is within­ walking distance from the guesthouse. Depending on which part of the campus you want to reach, the distance is between 0.5 and a maximum of 1 km.
Public transport can easily be reached from the guesthouse. The nearest bus stop, Groß-Barop, is about 180 meters from the guesthouse. The bus stop Barop Friedhof is 450 meters away. The S-Bahn (suburban train) station DO-Universität­ is 700 meters away.
Shopping facilities can also be found in the direct vicinity of the guesthouse.
A supermarket and a bakery are about 270 meters away from the guesthouse, restaurants in the immediate vicinity thereof.
For more­ information to assist your orientation on the Campus, please refer to the following page.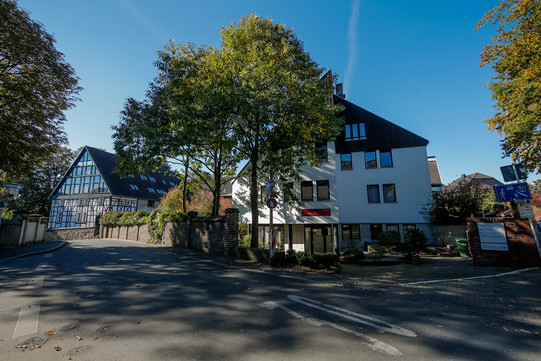 The guesthouse is not a hotel and therefore does not have a permanently manned reception desk. For important questions, however, the guesthouse management is at your disposal.
The guesthouse management can be reached during regular office hours on weekdays.
E-mail: gaestehaustu-dortmundde
Phone: +49 231 755 8181
In urgent or emergency cases, please refer to the central contacts at TU Dortmund University.
Important note: Many questions about the guesthouse have already been answered in the FAQs. Please consult this list of questions and answers before you contact the guesthouse management – thank you!
Inquiries:
If you are interested in staying at the guesthouse, please send your inquiry to gaestehaustu-dortmundde.
The submitted request must­ contain the following­ information in order to be processed accordingly.
Personal data: Surname, first name, accompanying family members (if applicable)
Contact person at TU­ Dortmund University­: supervisor / department / institute
Period: min 14 days, max 6 months, date of your planned stay
Important note: If you are accepted, you must be able to prove that you­ work or will start to work at TU­ Dortmund University. ­This proof should be an official confirmation from the corresponding department / institute / supervisor about your planned activities at TU­ Dortmund­ University.