In and around Dort­mund
Finding an Apartment
When looking for an apartment in the Dort­mund area, it is recommended to start early. On this page, you will find an overview of various online portals and contact information on the topic of housing.
It is helpful to include the Dort­mund city districts and the respective suburbs into the search for accommodation. An overview is provided by the Dort­mund city district portal (DE).

The districts near TU Dort­mund University include Eichlinghofen, Barop, Hombruch and Dorstfeld. The districts around the city center are the Kreuzviertel, the Klinikviertel, the Saarlandstraßenviertel and the Kaiserstraßenviertel.
When looking for accommodation, it is sometimes advisable to include neighboring cities and districts to Dort­mund, such as Bochum, Herne or Witten.

Important note: In order to make it easier to contact potential landlords or flatmates, we have created respective templates in German and English, which only need to be filled with the personal information. Send the German cover letter to potential landlords and use the English as an aid for understanding. You are welcome to contact us about the templates.
TU Dort­mund Apartments:
Further Links:
Facebook Groups:
Provided housing is usually managed by private landlords or housing companies or cooperatives.
As a rule, a rent deposit is required from the landlord when renting housing. This is deposited by the tenant with the landlord at the beginning of the tenancy and is intended to protect the tenant against damage caused by the rent. It may amount to a maximum of three net cold rents. After the end of the rental agreement or termination of your rental agreement, the deposit will be refunded if the landlord no longer has any claims (e.g.: rent debts, outstanding repairs).
Important note: Write your name on the doorbell and letterbox immediately after moving in.
You can find further information on the topic of housing for tenants here:
DAAD: Topic housing – The small lexicon for rent
Research in Germany: Housing
The in­ter­na­tio­nal reach of TU Dort­mund University is large. International scientists and scholars regularly come to Dort­mund to work in research and teaching at our university for a certain period of time. We try to support our guests in the best possible way in preparing and organizing their stay. This also includes finding accommodation.
If you would like to rent out a room or an apartment to in­ter­na­tio­nal scholars, please contact us. We are happy to receive all offers, especially for affordable and furnished accommodation.
Contact: welcome.services @tu-dortmund.de
On this page we can only provide information on this topic, but we cannot provide comprehensive advice or make recommendations.
*Our services are directed to in­ter­na­tio­nal guest researchers, doctoral students, postdocs and professors.
Location & approach
The facilities of TU Dort­mund University are spread over two campuses, the larger Campus North and the smaller Campus South. Additionally, some areas of the university are located in the adjacent "Technologiepark".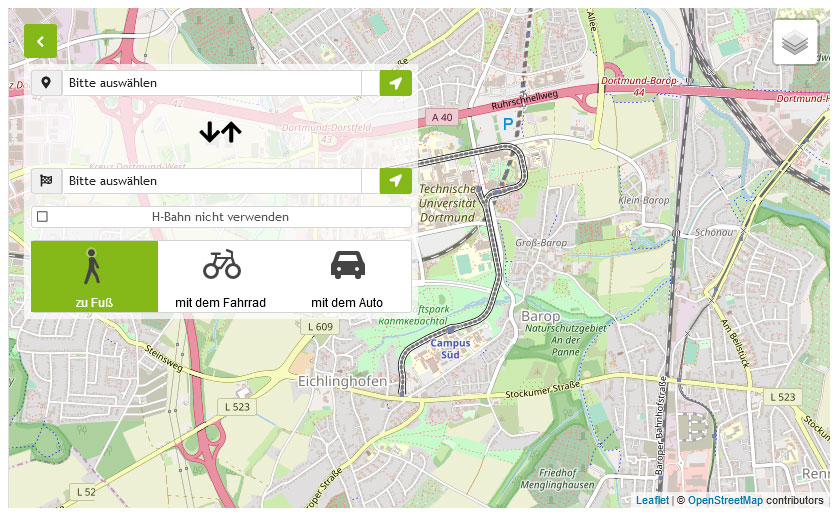 Zum Lageplan