"Vereine" Fair
"Vereine" as Spaces for International Encounters
In German everyday culture, "Vereine" (an association like a club) have traditionally played an important role: Sports, music, cultural, educational and nature conservation clubs offer space for joint leisure activities and volunteer work. A special "Vereine" Fair for in­ter­na­tio­nal students will give clubs near campus the opportunity to present their diversity and open their doors to young students.
In campus and everyday life at German universities, there is a certain separation between studies and private leisure activities. This poses particular challenges for newly arrived and in­ter­na­tio­nal students. Therefore, a "Vereine" Fair is to be organized where local clubs can introduce themselves. In this way, in­ter­na­tio­nal students can get to know the clubs in the campus environment and establish initial contacts. Through their club membership or volunteer work, the in­ter­na­tio­nal students gain unique access to German culture and can have positive experiences beyond the campus. On the other hand, the clubs can counteract the shortage of young talent. Through the new generation of students, existing club members also gain insights into life styless with which they may have had few points of contact up to now.
Note for students:
Due to the current Corona pandemic and the resulting lockdowns, club life is currently unfortunately limited or even non-existent. As soon as this is possible again and the majority of the clubs can fully resume their activities, the club exchange will be organized in TU Dort­mund's IBZ (International Meeting Center).
Note for "Vereine":
Please let us know at any time if your association is interested in the "Vereine" Fair or if you would like to establish contact with in­ter­na­tio­nal students by other means. We will be happy to support you.
Location & approach
The facilities of TU Dort­mund University are spread over two campuses, the larger Campus North and the smaller Campus South. Additionally, some areas of the university are located in the adjacent "Technologiepark".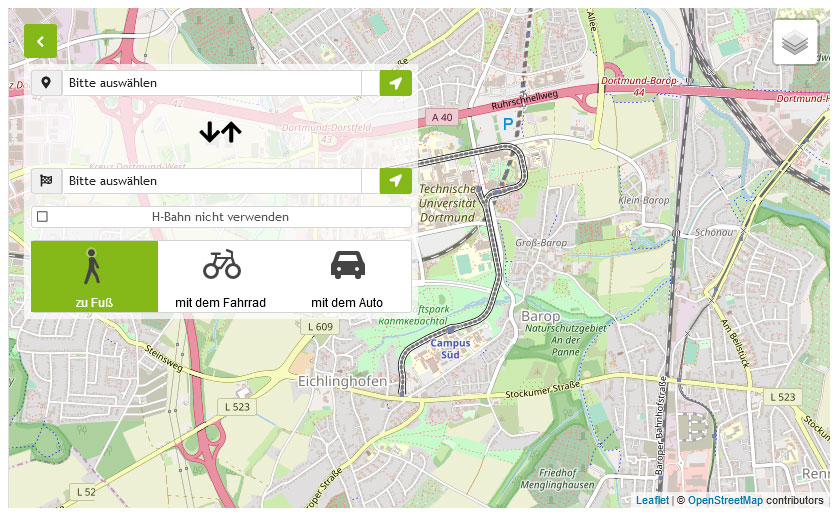 Zum Lageplan