Internationalization of Higher Education
Third Mission Activities with an International Focus
In addition to research and teaching, the two core tasks in higher education, universities are also involved in society in a variety of ways. This field is currently undergoing dynamic development and is being expanded to include the factor of "internationalization".
Third Mission at Universities
Social engagement with addressees outside the academic sphere - e.g. companies or civil society actors - is also referred to as "third mission", i.e. a third mission in addition to research and teaching. In this context, these society-related activities of a university take place in the context of teaching and research, without themselves or without being solely teaching or research.
According to this understanding, universities are not only academic institutions, but also civil society actors and, accordingly, as part of society, are committed to the societal whole.
This term covers a wide range of activities: initially, it primarily meant the transfer of newly generated knowledge to society; now, the "third mission" refers not only to research-intensive institutions, but also to the area of academic continuing education and civic engagement. What all activities have in common is that they require the university to open up to society and generate added value. TU Dortmund University networking with local and regional partners in many ways: In community development, for example, through participation in the Master Plan for Science, in continuing education, in technology transfer and start-up promotion, or in cultural activities, such as at the Dortmunder U.
Location & approach
The facilities of TU Dortmund University are spread over two campuses, the larger Campus North and the smaller Campus South. Additionally, some areas of the university are located in the adjacent "Technologiepark".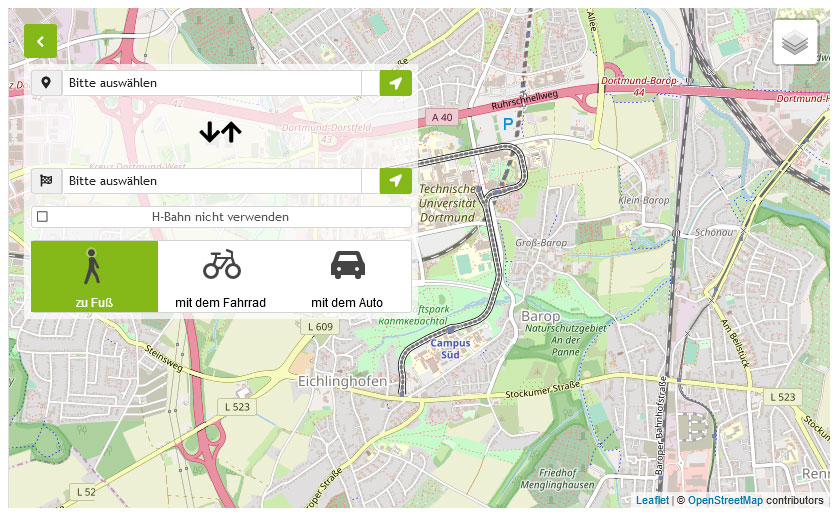 Zum Lageplan