International experts at Dort­mund schools
International Students Enrich Everyday School Life as Cultural Ambassadors
Around 3,000 young people from 115 countries around the world study at TU Dort­mund University. Internationalization represents a high value for both the university and Dort­mund's urban society. The project "International Experts at Dort­mund Schools" promotes intercultural encounters between in­ter­na­tio­nal students and Dort­mund schoolchildren: on the one hand, the in­ter­na­tio­nal students gain insights into everyday life in Germany outside the TU Dort­mund, and on the other hand, they enrich school lessons with their cultural expert knowledge.
As guests, the in­ter­na­tio­nal experts accompany the school lessons either selectively on project days, smaller lesson sequences or continuously in foreign language lessons, in study groups or in afternoon activities in all-day schools. The more consistent the cooperation, the deeper the insight into everyday life and cultural background - both from the students' and the pupils' side.
Advantages of Mutual Exchange
Through dialogue, everyone involved wins:
International students at TU Dort­mund University with and without a refugee background....
contribute to intercultural education,
provide first-hand insights into their home country and open up new perspectives,
actively participate in everyday life in Germany and get to know Dort­mund in a different way,
improve their German language skills and practice their presentation skills,
can gain pedagogical skills and apply them to their studies,
gain insight into the teaching profession,
can serve as role models for students,
are ambassadors of their home country,
are ambassadors of TU Dort­mund University,
receive a certificate of participation.
Students at Dort­mund schools...
get an exclusive first-hand insight into countries and cultures of the world without having to travel,
can interact with native speakers in foreign language classes,
can enter into dialogue at eye level with in­ter­na­tio­nal students, most of whom are also young people, and exchange experiences and lessons learned (peer-to-peer approach),
get to know diversity and different biographies with and without a refugee background who have found their way to the university.
Schools, teachers ...
enrich lessons by imparting first-hand knowledge and vividly bring the wider world into the classroom,
enable intercultural dialogue (looking beyond one's own nose) and encourage reflection on one's own cultural background,
create variety in the classroom through the guests,
receive support on project days, at events or extracurricular activities in all-day classes,
can integrate native speakers in language lessons,
open up possible educational perspectives and alternative career paths for students through the role models of in­ter­na­tio­nal students,
do not require a great deal of additional organizational effort, since the project provides the experts.
Project Participation and Organization
The following can participate in the project
all types of schools and school classes of all grades in Dort­mund
in­ter­na­tio­nal students with and without a refugee background from TU Dort­mund from all fields of study.
The schools or the teachers specify in which subject and teaching format they would like to integrate the in­ter­na­tio­nal experts and how they will involve them in the school lessons, afternoon activities, project days or AGs.
For example, the in­ter­na­tio­nal students can present their home country in geography lessons and answer the students' questions. Lesson sequences are also conceivable in which the in­ter­na­tio­nal experts present their country in a creative way, for example by cooking a traditional dish together with the students or playing a game typical of the country. The integration in language lessons or subject and project lessons can be discussed and designed individually. In German as a Second Language classes, for example, in­ter­na­tio­nal students with a refugee background could make an important voluntary contribution by mediating between language barriers and cultural peculiarities on both sides.
Important: The in­ter­na­tio­nal students should not plan their own lessons, but enrich the lessons as conversation partners and sources of information. Accordingly, didactic and pedagogical guidance is naturally the responsibility of the teachers.
The content and type of involvement depends on the age of the students, the requirements of the curriculum, and the time capacities of the participants.
Against the backdrop of the pandemic, unfortunately only digital integration is possible at present, but this will lead to the enrichment of the lessons just the same.
Participate! Registration for the project
Registration for schools:
If you are interested in the project "International Experts at Dort­mund Schools", please contact us.
Tell us for which period, area and from which country you would like to have a student and we will try to find someone among the in­ter­na­tio­nal students of TU Dort­mund who fits your request.

Application for International Experts:
Are you interested in the project International Experts at Dort­mund Schools and would like to make a voluntary contribution to intercultural education?
We would like to place you specifically at a school where you - depending on how much time you would like to invest - will support the teachers in class.
If you have any questions about the project, please contact us:
Location & approach
The facilities of TU Dort­mund University are spread over two campuses, the larger Campus North and the smaller Campus South. Additionally, some areas of the university are located in the adjacent "Technologiepark".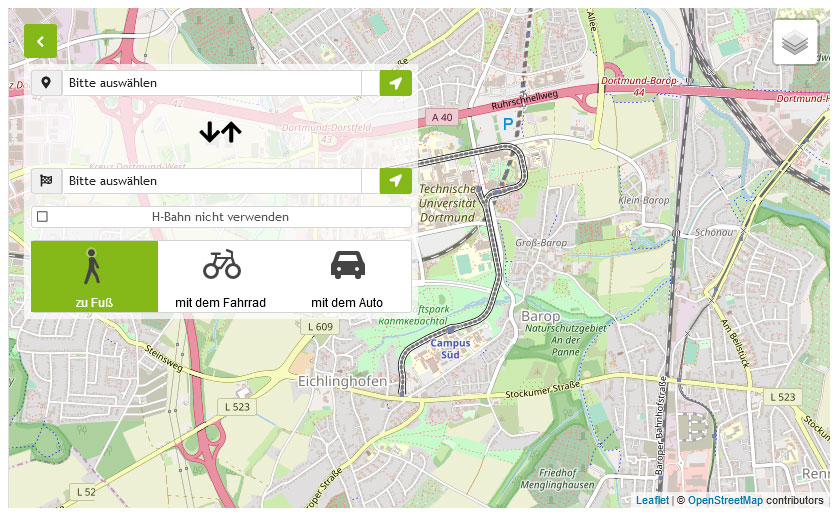 Zum Lageplan