Discover Diversity and Experience a Colorful Travel through the World
Inter­natio­nal CultureCafé (IKC)
The International CultureCafé (IKC) takes place every semester and invites you to experience a travel through the world. The program usually ranges from traditional art and music to culinary specialties and live performances. At the IKC events, in­ter­na­tio­nal students are given the possibility to present their home countries and culture. Each IKC evening is as colorful and diverse as the different nations which are presented.
Furthermore, the so-called Festival of Cultures and the IKC Christmas event, the Winter Edition, take place once a year.
Browse through our in­ter­na­tio­nal cultural stands, get to know dedicated students and doctoral candidates from all over the world and enjoy a varied cultural program. Friends and family are welcome to join!
The IKCs are organized by the International Office of TU Dort­mund University and the University of Applied Sciences Dort­mund (FH Dort­mund) as well as the General Student Committees (AstA) of TU Dort­mund University and the FH Dort­mund.
If you would like to join the team and be part of the backstage, organizing tasks or even present your own country and have your own International CultureCafé evening, please contact Mrs. Wasila Al-Dubai or Ms. Jenny Nguyen.
For the next International CultureCafé (IKC) Winter Edition there will be an online alternative.
Location & approach
The facilities of TU Dort­mund University are spread over two campuses, the larger Campus North and the smaller Campus South. Additionally, some areas of the university are located in the adjacent "Technologiepark".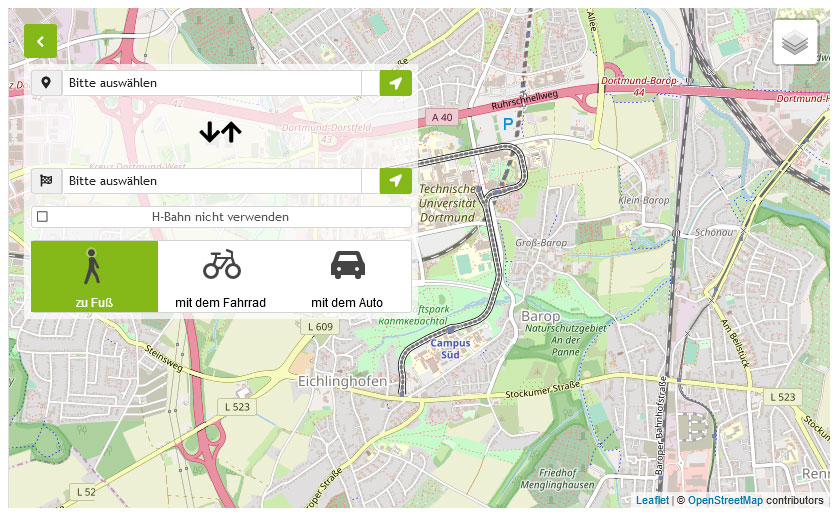 Zum Lageplan