3 Tracks - Numerous Opportunities!
Within the ISP, participants can choose courses from three different tracks and combine them freely: Track A Engineering, Track B German and European Studies and Track C Entre­preneur­ship. In all tracks there is the possibility to carry out a ­re­search proj­ect.
All courses are offered in English and there are no special enrolment requirements for participation.
Beyond the freely selectable courses, there are also two mandatory events: a German course and a two-day course on "Germany - Politics, Culture & Society". In addition to these optional courses, we recommend that you attend two to three other courses.
Track A is or­ga­nized by the Department of Biochemical and Chemical Engineering, the focus of the track being primarily on process engineering and eco­nom­ics. This track is aimed at students from the second year of study onwards. When applying for it, interested students can submit a preselection of courses using the course catalog. The final choice of courses will only be determined after arrival in Dort­mund, as the offers in the course catalog are subject to change.
Track B - German and European Studies
Track B is or­ga­nized by the Department of ­Cultural Studies. Track B focuses on German culture in a European and/or ­in­ter­na­tio­nal context. Since the topics of the individual courses are oriented towards new ­developments, the courses change every year and are published shortly before the start of the ISP. Interested students can see the preliminary courses in the course catalog.
The Un­ion at Risk: History and the Future of the European Un­ion
19th- and 20th-Century American Drama and Theater: Trans­atlan­tic Connections
The Tenderness of the Slaveholder: Race, Postcolonial Theory and Charles Sealsfield's German-American Fiction
Coffee & Cafés - A Beverage and Its Cultural Impact
What is "German"? German History and Identity Formation
Feminism and International Politics
Track C - Entre­preneur­ship
Track C is or­ga­nized by the Department of Business and Economics. This track is aimed at students who are interested in entrepreneurship and eco­nom­ics. Students will have the opportunity to deal with the above-mentioned topics from different perspectives. Interested students can see the preliminary courses in the course catalog.
Concepts and Cases in International Marketing
International Business (Bachelor)
Business Model In­no­va­ti­on
A re­search proj­ect can be carried out either full-time or part-time, depending on whether other courses are taken (the German course and the culture course are compulsory, however). Participants who decide to carry out a re­search proj­ect are supervised by a professor or doctoral candidate. They will be integrated into a multicultural team and can work on small projects and re­search.
If you are­ interested in­ a ­re­search proj­ect, please contact the according contact person of your desired re­search area:
Engineering: Lukas Lüken
German and European Studies: Laura Kost
Entre­preneur­ship: Katharina Weidemann | Sina Ramin Sadegh Nadi
Application: Research Project

When applying on­line, please indicate whether you would like to carry out a ­re­search proj­ect and which subject area you are interested in.

Admission to the ISP is usually granted in March. Subsequently, suitable re­search projects are requested for interested parties. The contact between interested ISP participants and potential fu­ture supervisors is established in April/May.

German Language Course & Culture Course
The participation in a German course is mandatory within the frame­work of the ISP. At the beginning of the ISP, a short test is carried out to determine the lan­guage level of the participants. Depending on the identified needs, German courses for beginners and more advanced learners are arranged.
The mandatory culture course "Germany - Politics, Culture and Society" offers an insight into German history and culture.
Location & approach
The facilities of TU Dort­mund Uni­ver­sity are spread over two campuses, the larger Cam­pus North and the smaller Cam­pus South. Additionally, some areas of the uni­ver­si­ty are located in the adjacent "Technologiepark".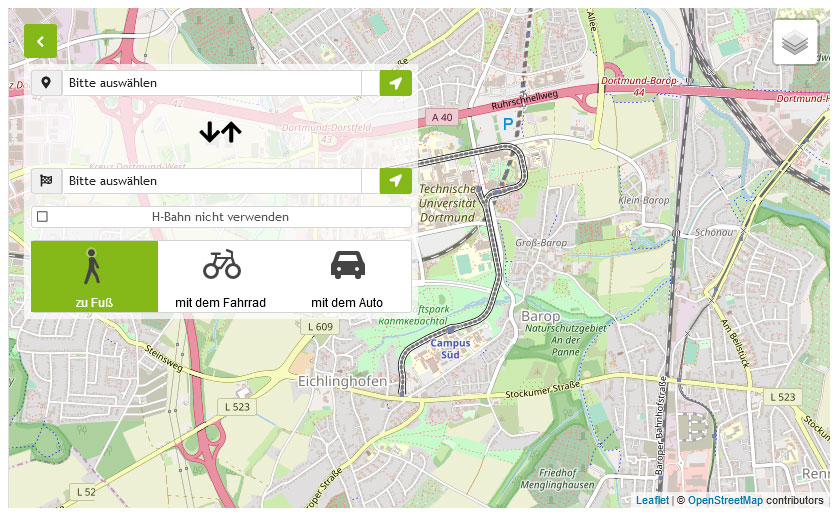 Zum Lageplan