3 Tracks - Numerous Opportunities!
Within the ISP Virtual, participants can choose courses from three different tracks and combine them freely: Track A Engineering, Track B German and European Studies and Track C Entrepreneurship. In all tracks there is the possibility to carry out a ­research project. However, in 2021 only Track C Entrepreneurship offers the possibility of a research project.
All courses are offered in English and there are no special enrolment requirements for participation.
Beyond the freely selectable courses, there are also two optional events: a German course and a two-day course on "Germany - Politics, Culture & Society". In addition to these optional courses, we recommend that you attend two to three other courses.
Track A is organized by the Faculty of Biochemical and Chemical Engineering, the focus of the track being primarily on process engineering and economics. This track is aimed at students from the second year of study onwards. When applying for it, interested students can submit a preselection of courses using the course catalog. The final choice of courses will only be determined after arrival in Dort­mund, as the offers in the course catalog are subject to change.
Track B - German and European Studies
Track B is organized by the Faculty of ­Cultural Studies. Track B focuses on German culture in a European and/or ­in­ter­na­tio­nal context. Since the topics of the individual courses are oriented towards new ­developments, the courses change every year and are published shortly before the start of the ISP. Interested students can see the preliminary courses in the course catalog.
The Union at Risk: History and the Future of the European Union
19th- and 20th-Century American Drama and Theater: Transatlantic Connections
The Tenderness of the Slaveholder: Race, Postcolonial Theory and Charles Sealsfield's German-American Fiction
Coffee & Cafés - A Beverage and Its Cultural Impact
What is "German"? German History and Identity Formation
Feminism and International Politics
Track C - Entrepreneurship
Track C is organized by the Faculty of Business and Economics. This track is aimed at students who are interested in entrepreneurship and economics. Students will have the opportunity to deal with the above-mentioned topics from different perspectives. Interested students can see the preliminary courses in the course catalog.
Seminar Entrepreneurship III: Business Modeling
Foundations of Entrepreneurship
Concepts and Cases in International Marketing
International Business
Business Model Innovation
A research project can be carried out either full-time or part-time, depending on whether other courses are taken (the German course and the culture course are compulsory, however). Participants who decide to carry out a research project are supervised by a professor or doctoral candidate. They will be integrated into a multicultural team and can work on small projects and research.
If you are­ interested in­ a ­research project, please contact the according contact person of your desired research area. Please notice that in 2021 research projects are only offered in Track C Entrepreneurship:
Engineering: Lukas Lüken
German and European Studies: Laura Kost
Entrepreneurship: Katharina Weidemann | Sina Ramin Sadegh Nadi
Application: Research Project (2021: only Track C!)

When applying online, please indicate whether you would like to carry out a ­research project and which subject area you are interested in.

Admission to the ISP is usually granted in March (2021: later!). Subsequently, suitable research projects are requested for interested parties. The contact between interested ISP participants and potential future supervisors is established in April/May.

German Language Course & Culture Course
The participation in a German course is optional within the framework of the ISP Virtual. At the beginning of the ISP Virtual, a short test is carried out to determine the language level of the participants. Depending on the identified needs, German courses for beginners and more advanced learners are arranged.
The optional culture course "Germany - Politics, Culture and Society" offers an insight into German history and culture.
Location & approach
The facilities of TU Dort­mund University are spread over two campuses, the larger Campus North and the smaller Campus South. Additionally, some areas of the university are located in the adjacent "Technologiepark".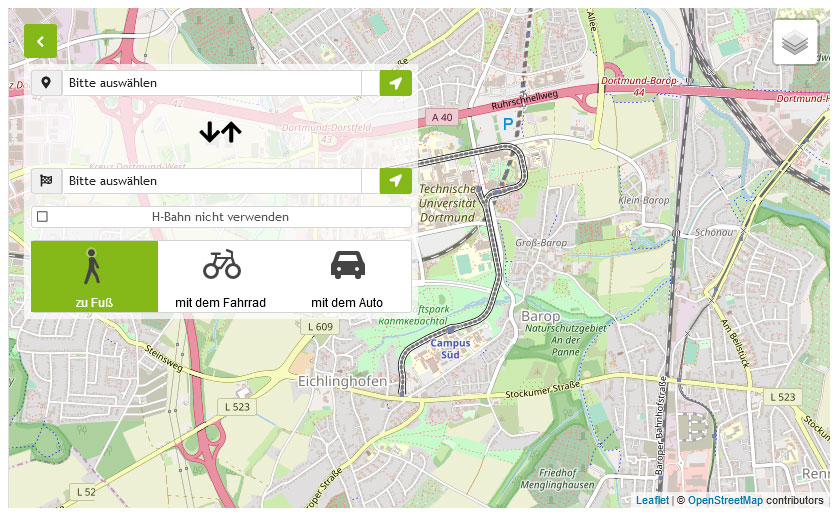 Zum Lageplan