International Summer Program (ISP) Virtual
The International Summer Program Virtual thrives on the internationality of its participants: students from Dort­mund and­ from all over the world meet virtually at the ISP Virtual. Together, participants can virtually explore the Ruhr Area: in the past, the Ruhr area was dominated by steel manufacturing and coal, but today it offers a unique culture and many exciting events.
After virtually exploring the Ruhr Area, it is also worthwhile to look beyond your own nose: the Ruhr Area lies at the heart of Europe, so that even the major European cities can be reached quickly.
Make best use of your summer and gain virtual experience abroad!
The ISP takes place annually from the beginning of June to the end of July (respectively the beginning of August), so that the lecture-free period at the home university can be used optimally. The ISP Virtual cultural program supports you in virtually meeting new people and virtually discovering the culture of the Ruhr Area.
The ISP Virtual offers courses in three different tracks. Participants can select and combine any number of courses from the tracks:
Track B German and European Studies
For successful participation in the courses, participants receive credits which can be recognized as study achievements at the home university by arrangement. You can find all courses of the ISP Virtual in the course catalog.
The program fee for students of our partner universities is 150€ and includes the following services:
More than 20 academic courses in 3 tracks (Track A Engineering | Track B German and European Studies | Track C Entre­preneur­ship)
Research Project in Track C Entre­preneur­ship
Optional German Language Course and Culture Course
Cultural Pro­gram
Transcript of Records
Location & approach
The facilities of TU Dort­mund University are spread over two campuses, the larger Campus North and the smaller Campus South. Additionally, some areas of the university are located in the adjacent "Technologiepark".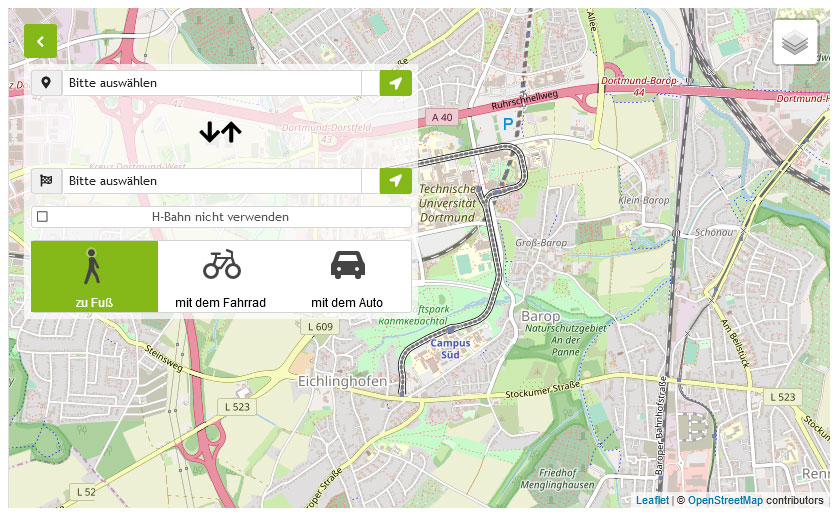 Zum Lageplan