An extraordinary service!
Housing
The International Office of TU Dort­mund Uni­ver­sity offers exchange students the service of reserving rooms in the dormitories of the Studierendenwerk Dort­mund, since TU Dort­mund Uni­ver­sity does not have its own residence halls, and furnished, affordable rooms are rare on the free housing market in Dort­mund.
To reserve a room in a student dormitory, please fill out the form Accommodation Request, sign it and upload it in your application.
Please do not contact the Studierendenwerk Dort­mund directly! The reservation of rooms for exchange students is only possible through the International Office of TU Dort­mund Uni­ver­sity.

Jordan
Uni­ver­sity of Chester, United Kingdom
"I really liked the diversity here as I met students from all around the world and the facilities such as accommodation, classrooms and food fa­cul­ties are all really high quality and modern."
Private Accommodation Search
It is generally recommended that exchange students do not look for private accommodation, as this is usually associated with a great deal of effort and often confusing costs. Since the room contingent of the International Office is limited, the International Office is not able to find a room last minute if your search on the free housing market is not successful.
Of course, you can still start your search and find accommodation, for example, by using the addresses listed below.
TU Dort­mund Uni­ver­sity has partnered with HousingAnywhere.com, an in­ter­na­tio­nal housing platform for students and interns. Through HousingAnywhere.com you can safely book an apartment from our outgoing students or verified landlords. There is a fee for booking an apartment. You can register for a TU Dort­mund Uni­ver­sity VIP profile here to receive priority in­for­mation about re­le­vant offers in Dort­mund. For further questions please contact viphousinganywherecom.
Contact
Exchange Students (Worldwide | ISEP | USA Program)
Location & approach
The facilities of TU Dort­mund Uni­ver­sity are spread over two campuses, the larger Cam­pus North and the smaller Cam­pus South. Additionally, some areas of the uni­ver­si­ty are located in the adjacent "Technologiepark".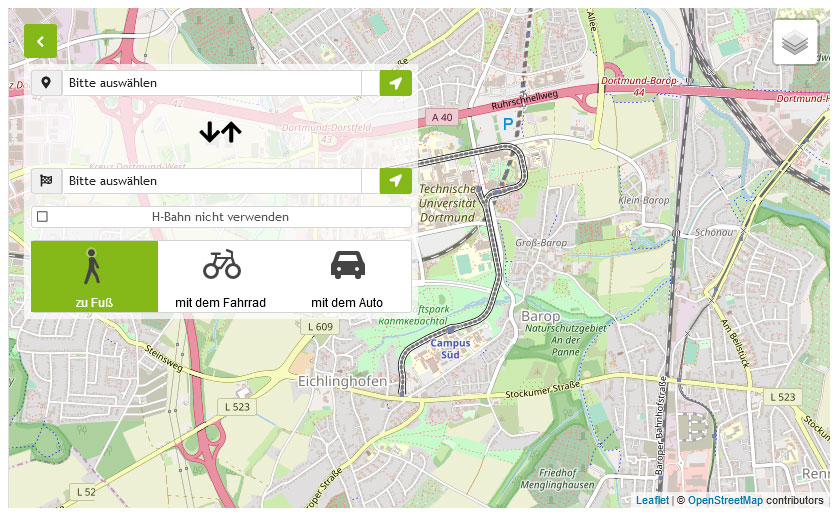 Zum Lageplan