Exchange students ben­efit from a particularly diverse range of teaching and re­search at TU Dort­mund Uni­ver­sity. They can choose both bachelor and master level courses from the degree programs in all 17 departments, with the lan­guage of instruction varying between German and English.
Module Handbooks / "Syllabus"
Most departments at TU Dort­mund Uni­ver­sity structure their degree programs in so-called module handbooks (Modulhandbücher), so that the same courses are offered regularly or recurrently. Some departments, e.g. the Department of Cultural Studies, sometimes offer new courses on current topics every semester.*
In the following table you will find all study programs at TU Dort­mund Uni­ver­sity as well as their module handbooks or a course catalog from the current semester for your orientation. A short instruction for reading the course descriptions can be found here.
(DE): Most or all lectures are taught in German
(EN): Most or all lectures are taught in English
* Short-term changes in the course portfolio due to illnesses etc. may occur.

** Please note that the module handbooks linked here may not correspond to the current status. You can find the latest versions on the respective websites of the departments.
How Do I Search for Specific Courses?
All courses at TU Dort­mund Uni­ver­sity are listed in the on­line uni­ver­si­ty portal Teaching Studies Research "Lehre Studium Forschung (LSF)". There you can find all listed courses from the past semesters for orientation as well as the courses for the next semester. Please note that all courses can only be found in the system very shortly before the semester start.
Contact
Exchange Students (Worldwide | ISEP | USA Program)
Location & approach
The facilities of TU Dort­mund Uni­ver­sity are spread over two campuses, the larger Cam­pus North and the smaller Cam­pus South. Additionally, some areas of the uni­ver­si­ty are located in the adjacent "Technologiepark".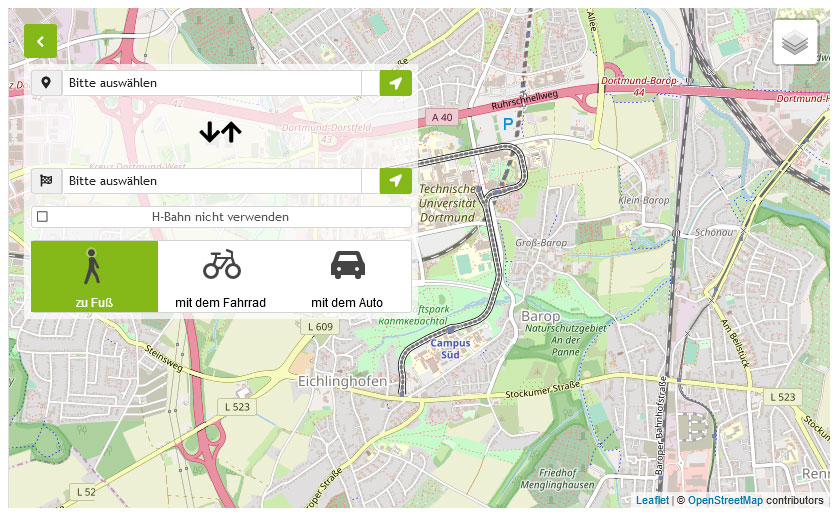 Zum Lageplan