Many reasons for TU Dortmund University
Highlights
Unique profile of TU Dortmund University
Language courses during the semester (several levels & free of charge for exchange students!)
Academic support before, during and after the mobility
Reservation of accommodation possible, assistance with administrative formalities, simplified registration (the International Office offers a range of services for exchange students)
Special support for students with disabilities or with child(ren)
With the included "Semester Ticket", students are mobile throughout North Rhine-Westphalia (to travel by public transport)
The city of Dortmund with its almost 600,000 inhabitants is an attractive place in the middle of the Ruhr area and also the second greenest city in Germany (over 500,000 inhabitants) - nobody is bored here #visitDortmund
In exceptional cases, additional courses can be attended at the Ruhr-Universität Bochum and/or the University of Duisburg-Essen (UA Ruhr)
You will feel at home with us!
Contact
Erasmus+ (Incomings)
If you have any questions regarding your exchange at TU Dort­mund University, please also have a look at our FAQs
Location & approach
The facilities of TU Dortmund University are spread over two campuses, the larger Campus North and the smaller Campus South. Additionally, some areas of the university are located in the adjacent "Technologiepark".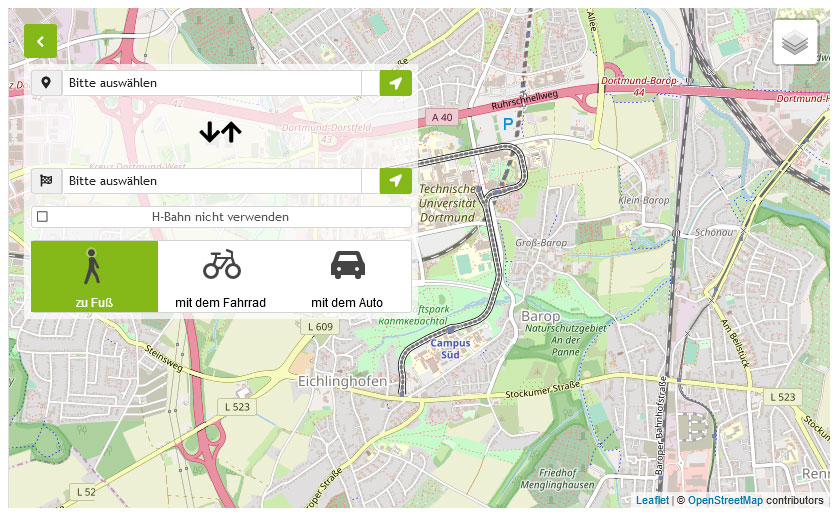 Zum Lageplan