Study and intern in one year
Dortmund Global Edge Program (DoGEP)
The Dortmund Global Edge Program (DoGEP) is a special offer for students from partner universities in the USA. Students (Bachelor or Master) start in the fall/winter semester with a study abroad program at TU Dortmund University with special additional courses in English and follow up with an internship in the Ruhr Area in the following spring/summer semester. TU Dortmund University organizes the internship for the students.
You start in September with a four-week German Intensive Course for exchange students and then start in October with the lectures you have selected in advance with your Academic Advisor.
The special offer in DoGEP is that additional courses in English are offered for you. These courses can deal with topics like transatlantic relations, doing business in the EU and the intersection of culture and technology. During the winter semester 2019/2020 DoGEP students attended the courses "What is 'German'? German History and Identity Formation" and "The Union at Risk - History and Future of the European Union" and also chose other courses from the regular course offerings. Due to the COVID-19 situation, these courses will be offered online for exchange students in the winter semester 2020/2021.
Furthermore, you will benefit from an application training, so that you are optimally prepared for the internship in the second semester.
If you do not have any German language skills before your arrival in Dortmund, this is no problem! If you already have good language skills, all doors are also open to you.
The International Office focuses on building up a close relationship between you and your contacts at TU Dortmund University during the first semester so that an internship can be individually organized for you.
In the spring/summer semester you will complete your internship, which will be accompanied by courses on intercultural training or German business culture.
Your internship will end at the same time the summer semester ends, by the end of July.
This program gives you the opportunity to not only experience studying at a German university, but also to gain valuable insight into everyday work life in Germany.
You can find information around the topics
under Exchange Students, which apply to you as well.

Location & approach
The facilities of TU Dortmund University are spread over two campuses, the larger Campus North and the smaller Campus South. Additionally, some areas of the university are located in the adjacent "Technologiepark".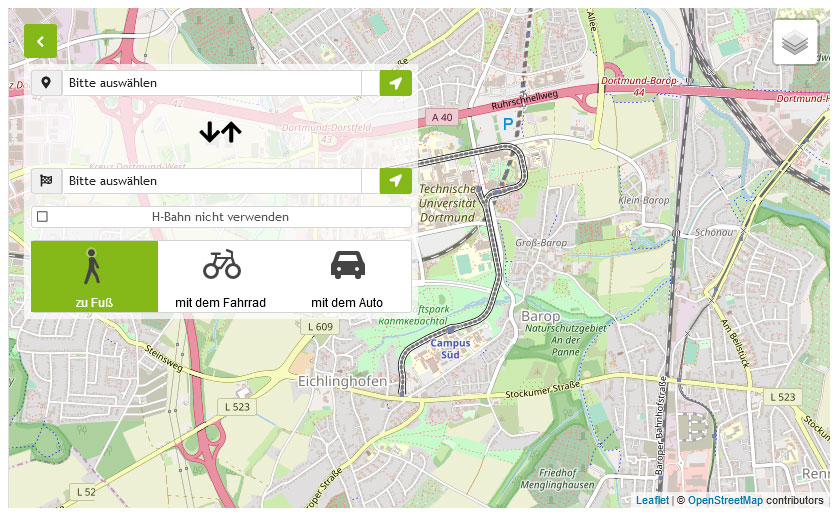 Zum Lageplan