Recruiting Services
Offers for Companies
Our aim is to support you - as employers - in attracting in­ter­na­tio­nal talents by building a close network. Through the establishment of a network with regional companies, we offer the opportunity to increase the degree of recognition and visibility of your company at TU Dort­mund University and provide the opportunity to close talent gaps by recruiting highly motivated in­ter­na­tio­nal students.
There are several possibilities to get in touch with our in­ter­na­tio­nal students.
You can promote the company as a potential employer for the target group, advertise internships and work positions, or recruit interested and qualified students for your company through a one-to-one mentoring program.
We would like to support you with our various offers:
Trial days at your company
Presentation of your company at TU Dort­mund University
Placement of internships and job vacancies
Promotion of company career events
Participation in the "International Career Fair" as an exhibitor
In addition: the CET's "stellenwerk" also bridges the gap between business and academia; for more information on the services offered, please visit the stellenwerk's Career Service pages (in German).
Please feel free to get in touch with us. If you are interested, do not hesitate to contact us and let us advise you.
Location & approach
The facilities of TU Dortmund University are spread over two campuses, the larger Campus North and the smaller Campus South. Additionally, some areas of the university are located in the adjacent "Technologiepark".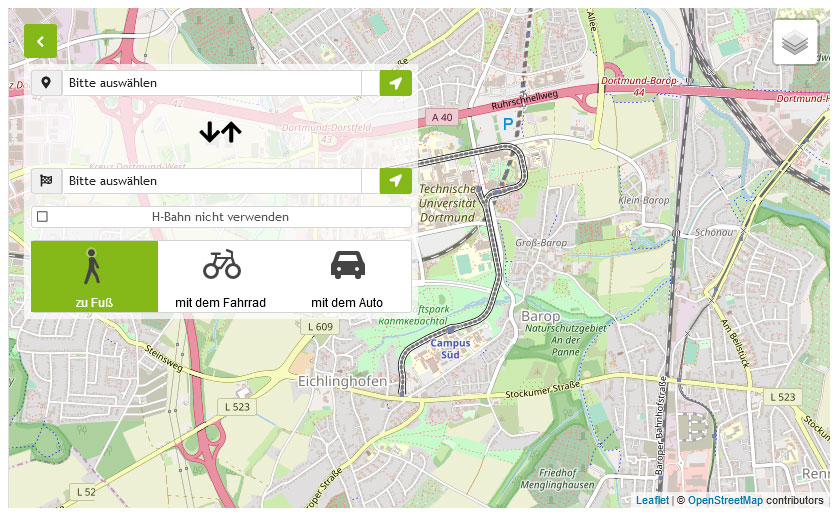 Zum Lageplan