Internationale Karriere­messe 2021
"International Career Fair helps to open up unexpected perspectives"
Felix Stewing | Storm Reply GmbH, Dortmund (part of the international Reply Group with more than 10,000 employees)
When Felix Stewing got an appointment at Storm Reply GmbH at the International Career Fair, he was skeptical at first - after all, joining an IT company was not automatically in focus for him as a graduate in economics. But these doubts quickly vanished in the personal conversation and the visit to the fair became a complete success for both sides.

"The chemistry was right from the start," reports Felix Stewing. After the initial meeting at the fair, further discussions followed with the management and other departments. "With new hires, we make sure that it also fits at the team level," adds Jan Krüger, Manager at Storm Reply and Business Unit Manager of Felix Stewing's department. A U.S. graduate of TU Dortmund University was also supposed to start almost at the same time as Mr. Stewing after attending the career fair, but he returned to his home country at short notice for personal reasons.
With his employment contract in his pocket, Felix Stewing started his first day of work at Stadtkrone Ost in Dortmund around three months after the International Career Fair. His tasks include cultivating the so-called "opportunities", i.e. customer contacts from which orders and partnerships are to be developed. In addition, he also takes care of organizational tasks and supports recruiting. In addition to developers and graduates from the STEM field, Storm Reply GmbH also brings together employees who approach things with an economic perspective. Felix Stewing positively noticed the training culture at his new employer: "I have my own personal annual goal for which training courses and certificates I can complete, and so I am working my way more and more into the IT field. The learning doesn't stop after university."
Storm Reply GmbH plans to participate in the International Career Fair again this year and hopes that the visit will be as successful as in 2021: "Last year, the graduates were all very well prepared," says Jan Krüger. Mr. Stewing advises future graduates and students who want to use the fair to help them start their careers to be open-minded and patient: "Don't be discouraged if the appointments you get don't suit you at first glance. If you get an appointment at the matching, graduates from this field are also wanted."
The next International Career Fair will take place on 27 October 2022 at TU Dortmund University's International Meeting Center, probably as a face-to-face event.
Location & approach
The facilities of TU Dortmund University are spread over two campuses, the larger Campus North and the smaller Campus South. Additionally, some areas of the university are located in the adjacent "Technologiepark".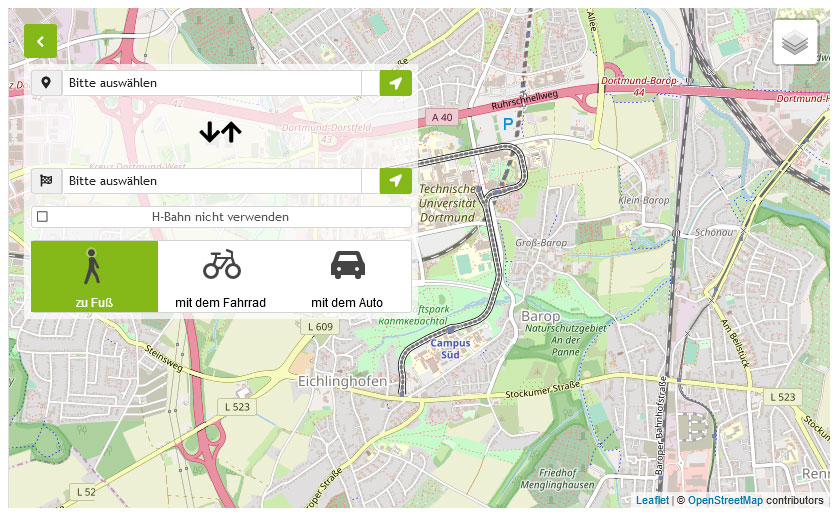 Zum Lageplan